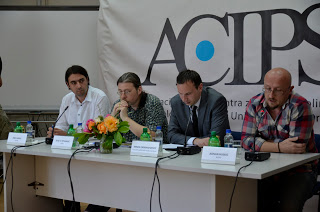 By Medina Malagić – Sarajevo
A public discussion on the upcoming census that is scheduled to take place in BiH was held today on the premises of the Alumni Association of the Center for Interdisciplinary Postgraduate Studies (ACIPS) in Sarajevo.
A document prepared by ACIPS called "Census 2013 in BiH: Economic, Social and Political Analysis" was presented at the discussion today. The document used these three aspects to analyze the questionnaire that was used during the trial census in BiH, as well as issues on ethno-nationalism, language and religious affiliation in order to explain these aspects from a linguistic, sociological and religious standpoint.
One of the speakers at the public discussion today was Sead S. Fetahagić, one of the founders of ACIPS.
According to him, the preparations for the census that were conducted by the BiH government was politicized based on the concept of ethno-nationalism that is still pervasive in BiH today.
''The government of BiH was involved at all levels in the politicization of the process of the population census in terms of focusing their debates or making problems to the questions of the census that are not mandatory. These are mainly questions that are related to the so-called ethno-cultural characteristics of the population, while they did not inform the public of BiH about the more important aspects, such as the socio-economic and development aspects of the population in BiH. Especially in light of the fact that the last census took place back in 1991 in the period of the former Yugoslavia just before the break up and the war. So basically, BiH still does not have any relevant information about the population, including the basic number of the citizens", said Sead S. Fetahagić.
He said that the documents that were published today by ACIPS were more in the form of discussion papers in order to inform the public, as well as some BiH institutions, especially the three statistics institutions in BiH, of certain problems surrounding the upcoming population census.
"It seems that proces is now already finished in terms of further amendment to the law or amendment to the methodology of the census forms. Probably, what has been agreed so far will be in practice during the census in October 2014. Nonetheless, we feel our public presentation for today can at least can inform the public in BiH to be aware of certian problems or certain problematic aspects of the census once the whole process begins in October of this year."