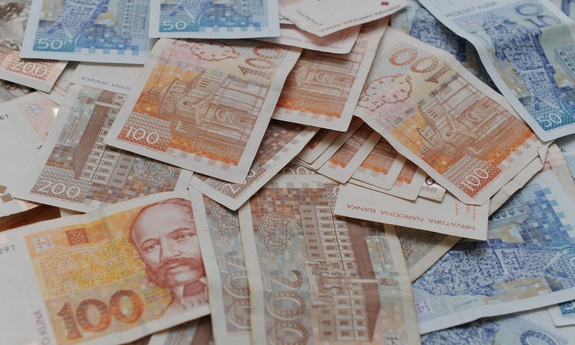 By Marija Avramovic – Zagreb
Croatian public debt rose in the second quarter from 68 to 68.4% of the gross domestic product (GDP) and by the end of the year it could, with economy's expected decline by 0.8%, reach 72% of the GDP.
Total general government debt which is made of the debt of the central government, the debt of social security funds and local government's debt, was 224.6 billion kuna (29.396 billion euro) at the end of June, according to analysts of Raiffeisenbank Austria (RBA).
Compared to the end of 2013, the general government debt is higher by 4.4 billion kuna or 2%, RBA analysts noted in reference to recent published data of the Croatian National Bank (HNB).
"Although the pace of growth of general government debt is slowed down, growth rate per annum is still in double digits and now stands at 13.6% or 26.9 billion kuna as a result of the base effect and  heavy government borrowing in the second half of 2013 to ensure funds for arrears from the first half of this year", RBA analysts asserted.
According to Eurostat data, which were published in July, in the first quarter the Croatian public debt was 68% of GDP or 221.8 billion kuna so as GDP becomes lower and public debt iincreases, there is a growing share of the debt to GDP ratio.
This is also why Croatia is increasingly moving away from the Maastricht criteria, according to which the public debt-to-GDP ratio should not exceed 60%.
"According to the current methodology (ESA95), with a projected decline in the economy of 0.8%, we expect that the public debt at the end of 2014 could reach 72% of GDP", RBA emphasized.
However, this proportion could rise even more due to the forthcoming changes in methodology for calculating general government debt, which are in line with the new ESA 2010 methodology of Eurostat.
"This could have a strong effect statistically in the growth of public debt and its share in the GDP, given that into the calculation will be included the croatian motorway and the Rijeka-Zagreb motorway that have fairly large obligations", RBA analysts concluded.