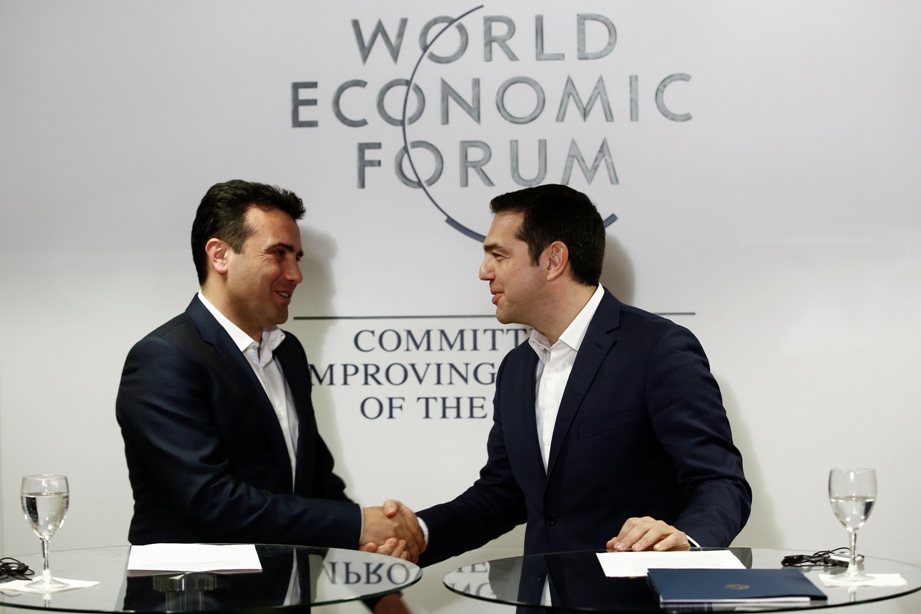 With joint statements at the end of their first meeting in Davos, Switzerland, Alexis Tsipras and Zoran Zaev made clear their willingness to move on to finding a solution to the nomenclature.
The meeting, which lasted for about three hours, took place in a very positive climate, according to information of IBNA. It was a sincere conversation, sources close to the negotiations told IBNA, where all issues related to finding a solution to the name issue were discussed. In the meeting of the two prime ministers participated foreign ministers Nikos Kotzias and Nikola Dimitrov, so that all issues of the problem to be discussed in depth.
Discussion focused on issues that concerned both the irredentism of fYROMacedonia in its Constitution, the use of an erga omnes name, the Euro-Atlantic course of the country, and the briefing of public opinion in order for the agreed name to be accepted.
As a move of goodwill, Zoran Zaev announced that he would change the names of Skopje's airport and the road linking Skopje with Thessaloniki to "Filia" (frienship) motorway, a development that pleased the Greek government.
For his part, the Greek Prime Minister stressed the necessity of eliminating irredentism and safeguarding with guarantees that such provocations will not be re-created in the future. A comprehensive solution to all outstanding issues will mark fYROMacedonia's accession course in the EU and NATO, Alexis Tsipras noted.
Foreign ministers Nikos Kotzias and Nikola Dimitrov are in charge of the completion of the talks – constantly briefing the two Prime Ministers – while efforts will be made to inform citizens about all aspects of the issue and to make clear the necessity of finding a solution for the common interest and security of the region./IBNA