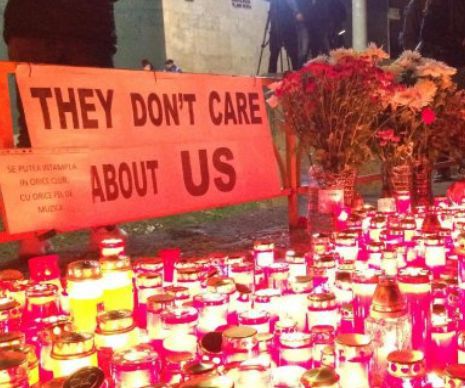 Bucharest, November 3, 2015/Independent Balkan News Agency
By Irina Stoica
Thirty two deaths and counting. With at least 80 people in serious condition, with severe burns and smoke intoxication, Romanians are counting victims of the nightclub fire. They're also counting guilty parts. They're counting disappointments. They're counting each other when they take the streets in protest. And they're trying to divide their anger.
Outrage is the word of order especially today, when the three days of national mourning ended. People are angry with the three owners of Colectiv Club, who never thought about public safety and are now facing 15 years in jail. They are angry with local authorities who gave the owners all the necessary approvals as if they were functioning in perfect order and are now subjected to an investigation from Police and prosecutors.
They are angry with national authorities who inaugurated, 7 months ago, a 4 million EUR modern, elite hospital wing for the treatment of burnt victims. A wing that could not be used to help the victims from Colectiv Club. They are angry with bigots who said that these youngsters were punished by God for listening to "Satanist" rock music and celebrating Halloween. They're angry, so angry with the Patriarch of the Romanian Orthodox Church, who said today, after four days of perfect silence, that people should go to church instead of nightclubs.
They're angry with the Romanian National Television that did not broadcast a second of footage from the nightclub tragedy on the night it happened, claiming that this was the job of news channels only. Yet it's fair to say that so far, the only resignations triggered by this incident came from TVR.
The Government is now trying to make amends. A soon to be adopted law will allow firefighters to close down nightclubs and bars if they don't respect the norms and protocols for emergency situations. Victims' families will get an emergency aid of about 1,200 EUR each. The Prime Minister urged the Ministry of health to accept any offer of help from other countries. Moldova offered to treat some of the victims, Israeli and French doctors came to Bucharest. Polish president visited the premises where the tragedy occurred and said that well-trained specialists from his country are willing to help.
Yet what the Romanians feel is that they must help themselves. That means to act and would put an end to corruption and indifference that many of them feel is to blame for this unprecedented tragedy. And they'll shout it out loud tonight, in a protest downtown Bucharest.