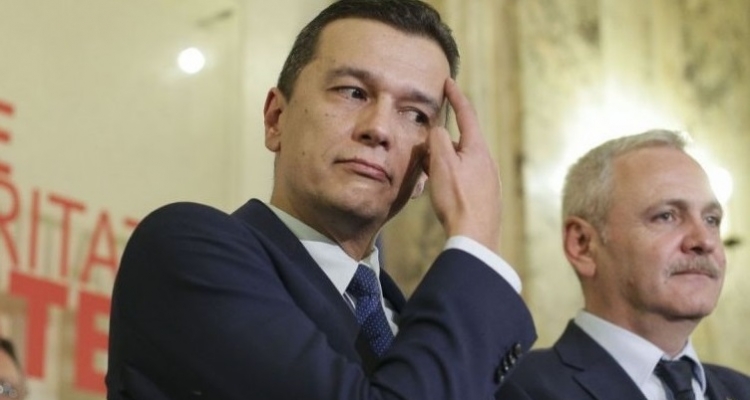 Grindeanu won't quit
Social Democrat Party chairman Liviu Dragnea would have asked PM Sorin Grindeanu to resign, political sources told local media. The information comes after the SocDem chairman has conducted an evaluation of the Grindeanu Cabinet's activity and is expected to announce a potential reshuffle. The sources say that Dragnea would have had a secret meeting with Grindeanu and other PSD members at the party's headquarters in Baneasa on Monday night. The premier would have refused to resign and told his party leader that stability is needed and that he wants to continue the actions assumed by the ruling programme.
On the other hand, Dragnea would have threatened Grindeanu to strip him of the political support, precisely for he is discontent with the delays in enforcing some measures of the ruling programme, among which there is the reproach for not implementing the Sovereign Fund of Development and Investments.
As a matter of fact, the PSD chairman didn't rule out on Sunday night the Gov't reshuffle if the party considers necessary. However, Dragnea mentioned it's not an option he would want. Dragnea statements' have been preceded by a battle of words, with Grindeanu arguing that changing the Gov't would lead to a political crisis, and Dragnea retorting that the stability doesn't subsist in one single person.
However, some dissident PSD members such as former PM Victor Ponta and Iasi Mayor, Mihai Chirica slammed Liviu Dragnea's intention to change the Cabinet.
Ex-PM Ponta says that changing the Government would be a great mistake for it would put all cards again in the hands of President Iohannis. On Tuesday, Ponta made further statements, saying that the Social Democrats should not make themselves ridiculous by toppling down their own government. Ponta added that the Government belongs to Romania, not to Teleorman not to a physical person. In his view, there are only personal reasons for changing the premier.
In his turn, Mihai Chirica stated that all party members who want to change the premier "are nuts".
According to the media plots in case the PM refuses to step down, a plan is to ask for the resignation of several ministers in the Grindeanu Cabinet, thus forcing the premier to do the same. There is also the possibility of PSD's filing a censure motion against its own government, but it is less probable, as Dragnea himself has stressed.
The PSD leadership is expected to decide the Gov't fate on Wednesday.
Grindeanu won't resign, five ministers to be replaced, sources
Sources within the ruling coalition told Capital that Sorin Grindeanu would not be replaced, but five ministers of his Cabinet would be changed: Health minister Florian Bodog, Finance minister Viorel Stefan, minister for Business Environment Alexandru Petrescu, Communication minister Augustin Jianu and Defense minister Gabriel Les.
Sources quoted by Digi24 also disclosed that Sorin Grindeanu had refused to resign even after the second meeting with Liviu Dragnea.
Rumours on the future PM, ministers' passing evaluation
The executive chairman of the People's Movement Party (PMP), Eugen Tomac revealed that he has found out from more MPs, including Social Democrat ones, that Liviu Dragnea would propose a new premier from UDMR, "which would exceed the political imaginary".
Tomac's statement prompted a harsh retort of the UDMR chairman Kelemen Hunor, who said that the PMP leaders must have been got "high" or "snorted".
"Have you asked Mr. Tomac what he has smoked this morning? Has he snorted something? It's serious when a party leader speaks nonsense on such a serious tone," Kelemen Hunor commented.
On the other hand, other sources revealed that only three ministers of the Grindenau Cabinet would have passed the party's evaluation: Interior minister Carmen Dan, Labour minister Olguta Vasilescu and Agriculture minister, Petre Daea. The three are seen as close to the PSD chairman Liviu Dragnea.
As a matter o fact, rumors have also been spread that Carmen Dan or Bucharest mayor Gabriela Firea would replace Grindeanu at the helm of the Executive. Yet, Carmen Dan said on Tuesday that she hadn't been proposed the premier position, but refused to say if she would accept such a position.
In her turn, Gabriela Firea claimed she would not accept the PM position. Firea has been the first one from PSD to critizice PM Sorin Grindeanu.
Political expert's opinion
Political expert Cristian Pirvulescu told Digi24 that "there are many elements suggesting" that Sorin Grindeanu will be replaced.
"The Parliament has voted the Government. Only a parliamentary procedure would lead to its removal (…) But sacking the premier is impossible. He can be revoked by the Parliament by vote or he can file resignation. Grindeanu doesn't seem willing to file his resignation," Pirvulescu stated.
He added that if Sorin Grindeanu leaves Victoria Palace, then president Iohannis is not compelled to propose a premier from PSD./IBNA
Source: romaniajournal.ro