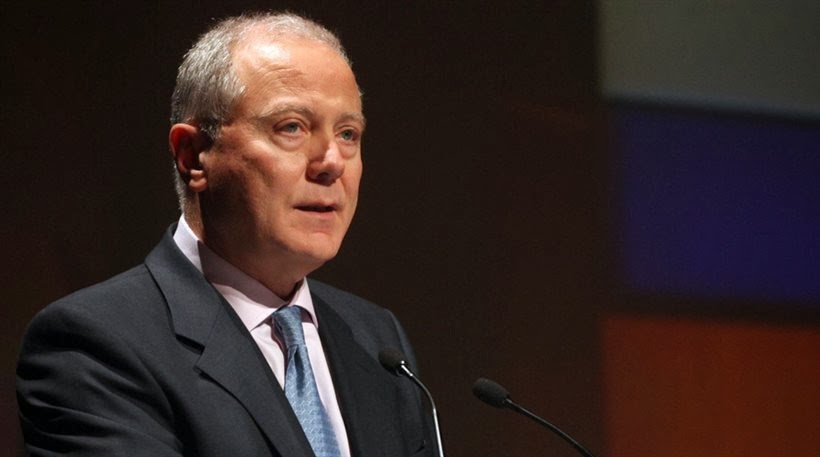 By Thanasis Gavos – London
In the imposing setting of the 15th century Armourers' Hall in the heart of the City of London, under awe inspiring armours, spears and swords of times gone by hanging on the walls, the central banker of Greece appeared relaxed and confident in the knowledge that he finally had a tangibly positive message to convey.
Addressing more than a hundred bankers, investors and state dignitaries in a 'Golden Series' lecture organised by the Official Monetary and Financial Institutions Forum, Giorgos Provopoulos actually had many messages to send, none more clear than his concluding sentence: "I am confident that Grecovery is on the way."
Mr Provopoulos presented a number of indices that show how Greece's public finances have finally improved. "It is generally expected that 2014 will be the year in which growth – although very modest at first – returns to the Greek economy," said the 63 year old banker. He also predicted that the additional fiscal measures implemented this year will increase the 2014 primary fiscal surplus to 1.5% of GDP, while he stressed that as of the end of last year the entire – and more – competitiveness lost had been recovered.
He made special reference to the banking system and its "enormous" restructuring. Mr Provopoulos was eager to provide and City investors keen to listen to assurances about a new fully recapitalised and with sufficient liquidity sector. But for ordinary Greeks it was the reference to a "code of conduct" for banks' dealings with distressed borrowers, planned to be implemented in 2015, that probably mattered the most.
British investors have a clear picture of what these ordinary Greeks make of the situation. They have indeed started looking into Greece with keener interest but when they dig a little deeper than the positive fiscal indices they see a terrifying unemployment rate and read of the anger and destitution of ordinary citizens unable to make ends meet for too long a time now.
Mr Provopoulos, knowing he would receive questions about this reality, did acknowledge that "the very high unemployment rate and the large sacrifices undergone by the Greek people led to social and political polarisation" and that "political uncertainty, and the risks associated with that uncertainty, could escalate ahead of the European Parliamentary and local Greek elections that will take place in May, undermining the recovery."
The central banker also had a word for the country's creditors, pointing out that Greece has achieved a primary fiscal surplus and therefore has fulfilled the condition that should lead to measures to ease the country's debt burden. "The exact amount of the surplus will be announced in April. With that announcement, I expect that the Eurogroup will agree to measures to help improve Greece's debt dynamics," noted Giorgos Provopoulos.
He also hit at Europeans and Greeks alike for the crisis and its deepening. He said that the architecture of the EMU proved inadequate for several reasons. "The combination of a lack of adequate fiscal rules, the absence of market-enforced discipline, the lack of attention to the interconnections between the banks and the sovereign, and increases in public and private indebtedness financed by volatile capital inflows was toxic."
As for the Greek government that first had to manage the crisis, Mr Provopoulos kept no gloves on: "Upon becoming Governor of the Bank of Greece in 2008, I began to publically warn the government – in not very subtle terms – that it needed to urgently take measures to address the fiscal and external imbalances. My warnings were overlooked."