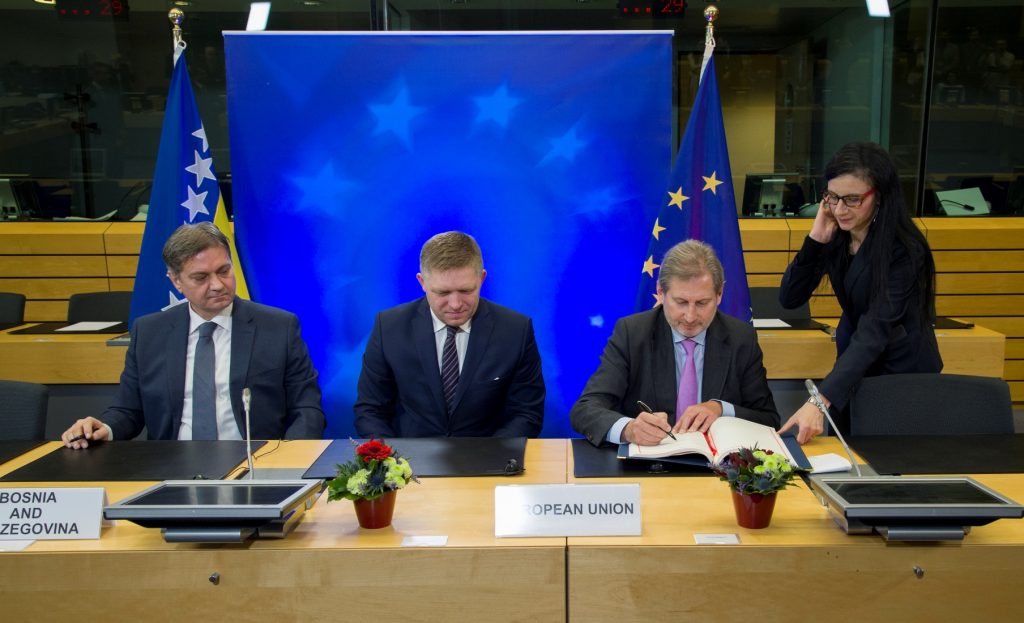 Representatives of European Union and BiH signed on Thursday in Brussels the Protocol on Stabilization and Association Agreement, which constitutes a new step forward on the BiH path toward EU.
As it was announced from EU Delegation in BiH, the signature concludes a long process of negotiations between the European Union and Bosnia and Herzegovina and marks a new important stage in the bilateral relations.
The Protocol was signed by Denis Zvizdic, Chairman of the Council of Ministers, on behalf of BiH; by Robert Fico, Prime Minister of Slovakia representing the Presidency of the EU Council, on behalf of the EU and the Member States; and by Johannes Hahn, Commissioner for Neighbourhood Policy and Enlargement Negotiations, on behalf of the European Atomic Energy Community (Euratom).
"Our respective negotiating teams have done a great job to achieve a fair deal in the mutual interest of Bosnia and Herzegovina and the European Union. The dedication of the BiH government bringing this process to a successful end was of pivotal importance, and it is undoubtedly among the factors that allowed 2016 to be a year of success for Bosnia and Herzegovina on its path towards the European Union", said Johannes Hahn, upon signing.
EU in its announcement explained that the Protocol, initialled on 18 July, provides for a technical adjustment of the trade provisions in the SAA to take into account the accession of Croatia to the EU in July 2013 and prevent disruption of the bilateral trade – a standard practice after every EU enlargement.
The Protocol will be provisionally applied as of 1 February 2017, pending ratification by the European Parliament and by the BiH Parliamentary Assembly. On the same day the EU will also automatically reinstate trade benefits on the import into the EU of certain agricultural products from BiH, including fruits and vegetables. Together with the SAA adaptation Protocol, Denis Zvizdic in his capacity as Chair of the EU-BiH Stabilisation and Association Council signed a decision replacing the bilateral rules of origin with those contained in the Regional Convention on pan-Euro-Mediterranean (PEM) preferential rules of origin. This will simplify trade with the EU as well as open new opportunities for trade with other partners in the wider PEM region./IBNA