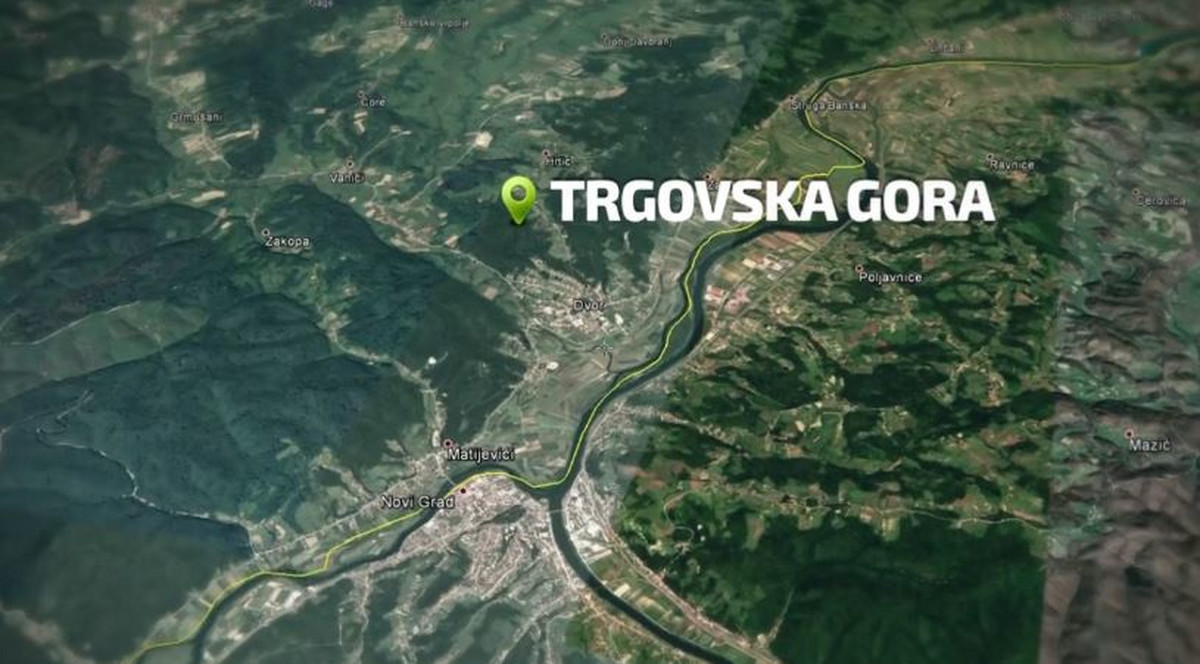 Despite the protests from Bosnia and Herzegovina, the citizens of the cities on the river Una and environment protection activists, the Croatian government decided to build the nuclear waste landfill on Trgovska Gora, near the border line with BiH.
There is still no serious reaction from BiH – or at least the Republika Srpska entity – institutions on the decision, which means that the landfill would be just a few hundred meters far from the borderline and the nearest city in BiH, Novi Grad (former Bosanski Novi). The landfill is also near the Una River, one of the most beautiful and cleanest rivers in this part of Europe. Against this location are also the citizens of the Dvor na Uni, the Croatian city nearest to the location. The Croatian government, in the decision, said that, after the security analysis for the construction of the warehouse, it is necessary to begin to design and build the infrastructure for long-term storage of waste from Krško, the nuclear power plant in Slovenia. This facility was built before the war, when Croatia and Slovenia were part of SFR Yugoslavia. Croatia has part-ownership in the plant.
"For now, a superficial type of landfill is preferred", concluded the Croatian government in the decision.
Mario Crnković, president of the Association "Green Team Centar" from Novi Grad, does not hide the disappointment, saying that the decision of the Croatian Government did not take into account that the planned landfill is only 850 meters far from the Una river, which is famous as a natural pearl.
"So far, in a variety of ways, on behalf of the citizens, we have warned that Trgovska Gora is an inadequate location. It is a seismically active site, which consists of porous and waterproof materials. Honestly, we expect the top of the country (BiH) to protect us and not allow this scam to be located near the people. We will probably file a lawsuit. This decision of the Croatian Government directly violates all environmental protection standards, as well as the right of people to live in a healthy environment", he stated to BiH media.
Drago Bundalo, the Mayor of Kostajnica, the city also located near Trgovska Gora, thinks that the state authorities did nothing to protect their citizens.
"This is not a municipal or an entity, but a state story. The two states should agree on this matter. There should be no landfill of nuclear waste near the Una River and the boundary of the future Park of Nature. Also, this kind of waste should not be near the border of any country without its consent. We should not take lightly in endangering the health of people and the generations to come", Bundalo said.
Three years ago, the BiH state Parliament concluded that the Trgovska Gora is not the proper location for the landfill of the nuclear waste, regardless of its strength, and that Croatia cannot challenge the international standards. However, after that nothing significant was done at state level. The Republika Srpska Minister for environment, Srebrenka Golić, tried to convince the Croatian authorities to abandon this idea but, obviously, it was without effect. The Croatian government cleverly used the institutional gap created after the BiH elections, when the old Council of ministers is still in the technical mandate and  a new one has yet to be established. What this means is that, in fact, at this moment there is no one who will properly react on the decision, which can endanger the people and nature in a rare places in Europe./IBNA