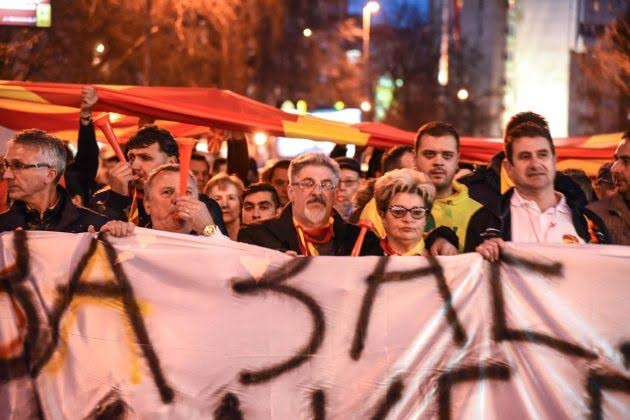 A beaten group of journalists and violent clashes between Slav-Macedonian young people and Albanians was the outcome of last night's incidents in Skopje, following the demonstration organized by civil movement "For a United Macedonia". Demonstrators launched slogans against the Albanian language, SDSM government and Albanian parties. "A1on" TV network's team has been attacked during this protest and this led to the injury of journalist Aleksandar Todevski and cameraman Vladimir Zelceski.
In a separate incident taken place near the Skopje's bus terminal between several young people, two people were seriously stabbed.
Attack against journalists
Yesterday's attack against journalists has been condemned by associations of journalists and political parties. "A1on" TV network has condemned the attack demanding from authorities to insure the reporters' safety while they cover protests.
Minister of Interior, Agim Nuhiu said that police have immediately intervened and that the two unnamed aggressors have been arrested.
The head of the Association of Journalists, Naser Selmani condemned the attack by blaming for it the leader of VMRO-DPMNE, Nikola Gruevski.
"I would like to ask the leader of VMRO-DPMNE to withdraw his aggressors. Journalists have been constantly targeted by him with the aim of suppressing the freedom of speech", Selmani said.
But VMRO-DPMNE has reacted against these accusations, by condemning the attack against the journalists and distancing itself from this incident. Other political parties have also reacted against this incident.
Protest spreads in other cities too
Protests against the platforms of the Albanian party and against the likely decision of president George Ivanov to give a mandate to opposition leader, Zoran Zaev to form a government, have also spread in other cities of the country. Kole Manev, one of the organizers of these protests said that they will not allow the Constitution to be changed, because this will destroy the foundations of the state and will eventually led to a change of the country's name.
"We will not accept platforms brought to us by other countries, we will not accept a program which has not been voted by the majority of people. VMRO-DPMNE and SDSM must not vote for the application of two languages in the country, while president George Ivanov must act according to the Constitution when giving the mandate for the creation of the government", Manev said. Protests were also held in Kumanovo, Prilep, Manastir, Stip, etc. Similar protests have also been announced this evening. /balkaneu.com/