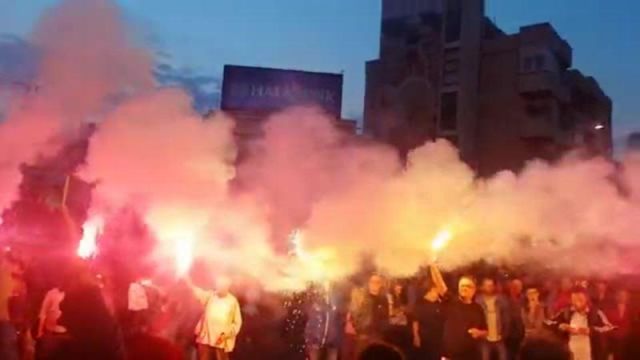 Skopje, 27 September 2016/Independent Balkan News Agency
By Naser Pajaziti
Thousands of protesters gathered last evening in front of parliament in Skopje to offer their support for the Special Prosecution. The protest was held by the "Multi-colored Revolution" civil movement, which requested for criminals to be brought to justice.
Counselor Zvonko Davidovik, activist of this movement said that this protest follows the fact that in the recent days, chief prosecutor Katica Janeva has been hindered in her work.
"The current power is using all legal instruments to block the work of this prosecution", Davidovik says.
Activists of civil society have stressed that they have joined this protest to offer their support to the Special Prosecution and to send a clear signal to the power. "They must not think that this institution is alone. We're alongside it", said activist Zamir Memeti.
According to this movement, many judges, who favor the government, are blocking the work of the Special Prosecution and are not executing its demands.
Before the protest, chief prosecutor Katica Janiva abandoned the meeting of the parliamentary justice committee, as according to her, pressure is being exerted, the report relating to the work of this institution is not being approved and the three laws which increase the efficiency of the work of the Special Prosecution are not being voted.
The EU ambassador to Skopje has called on political parties not to block the work of this institution, but to respect it.
The Special Prosecution was established last year through an agreement between the four main political parties in the country and the brokerage of the USA and EU. The mission of this institution is to investigate power abuses by the last government. In the first two cases investigated by this prosecution, one of the suspects is former PM Nikola Gruevski. /balkaneu.com/