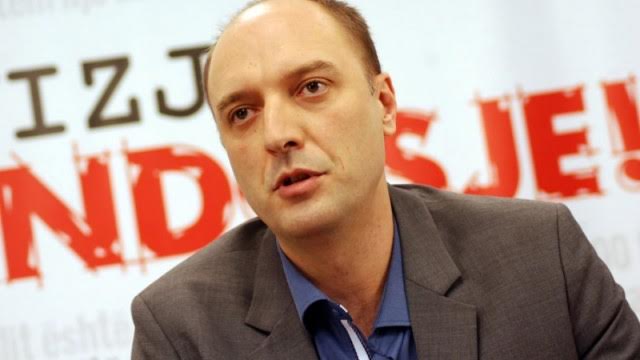 Pristina, 7 January 2016/Independent Balkan News Agency
By Elton Tota
Leader of Self Determination, Visar Ymeri has reacted against the declaration issued by deputy prime minister Hashim Thaci, who said that "opposition parties have been blinded by the desire to seize power through violence".
"The deputy prime minister who is looking forward to becoming president, has written an opinion where as usual, he threatens the opposition. Hashim Thaci, who will be running for president, is trying to ease the massive protests that will start on 9 January and which will continue until this irresponsible government leaves", Ymeri declared.
He said that Hashim Thaci criticizes the opposition of struggling for power, while forgetting that he, himself, was nominated for president the same as Big Brother's characters, after signing a dirty agreement for the division of power with his allies, Isa Mustafa and the Serb List.
"For the post of the president, he set up a government which has only worked for Serbia and against Kosovo. These government allies had initially promised hundreds of thousands of new jobs, but in the economic aspect, they only brought enrichment for themselves and extreme poverty for the people", he said.
According to Ymeri, the protest that the opposition has announced on January 9, will be decisive.
"The January 9 protest will be glorious and decisive. Hashim Thaci and his chief, Isa Mustafa, are invited to count the participants and write statuses, if they have nothing else to do. They have been incompetent and criminals while in power. United opposition and the citizens will win", added the leader of the largest opposition party in Kosovo.
The head of the Self Determination Parliamentary Group, Glauk Konjufca says that January 9 will be the day when the government leaves along with the agreements for the Association and Demarcation with Montenegro.
Konjufca has denied accusations according to which they aim at seizing institutions through violence.
"Our scope is not to seize institutions through violence, but put pressure and provoke fresh elections. Power can only be seized through democratic means, elections". /ibna/