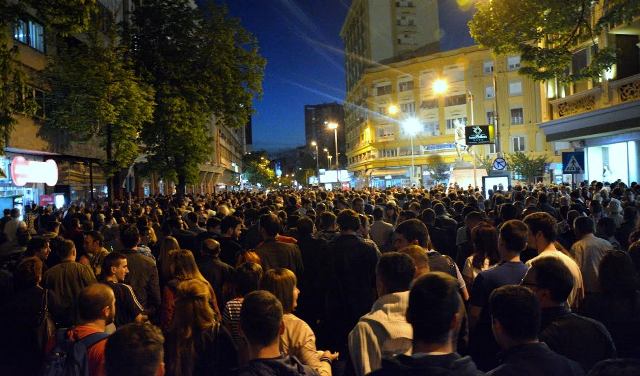 Skopje, 13 April 2016/Independent Balkan News Agency
By Naser Pajaziti
Hundreds of citizens protested last night following the decision of the president of the country, George Ivanov to grant amnesty and suspend all judicial trials against politicians.
Protests were initially held in front of the Special Prosecution, continuing in front of the government building and in the end, in front of the seat of the largest party in the country, VMRO-DPMNE.
They have clashed with police in an attempt to approach VMRO-DPMNE's seat. Protesters have demanded from president Ivanov to withdraw his amnesty in order to let justice shed light upon the criminal offenses carried out by the current power.
"We call on Ivanov and the party in power, VMRO-DPMNE to withdraw from these decisions, because with these decisions, they interfered with the work of democratic institutions. This is a blow against the state", IBNA was told by Ljupco Paleski, political analyst and supporter of the protesters.
But several hours before midnight, the leader of SDSM, Zoran Zaev was among protesters by telling them that he would support them, but then he asked them to disperse.
Another protest was also held in front of SDSM against the policies of this party in opposition.
"We have gathered here against the opposition which led the state to a crisis", protesters chanted.
Police presence has increased in Skopje and police units have been installed near all institutions of the country.
Meanwhile, yesterday, leader of opposition, Zoran Zaev has called on the citizens to participate in massive protests in order to reject the decision to hold elections on June 5, as the necessary conditions for these elections have not yet been met.
Political parties react against Ivanov's decision
Political parties in FYROM have reacted following the decision of the president of the country, George Ivanov to grant amnesty for all politicians who are facing charges as part of the wiretapping affair.
SDSM declared that this decision is an attempt to escape justice. "Ivanov became part of crime. As of today, the rule of law doesn't exist. Laws and the Constitution are violated. We demand Ivanov's resignation. Parliament must gather and debate on Ivanov's decision", leader of SDSM, Zoran Zaev said.
VMRO-DPMNE, which was the party that nominated Ivanov as president, also reacted against this decision.
"In this case, we don't agree with this decision. We have agreed on many things with president Ivanov and we highly think of him, because he has led by upholding the national and state interest, but this is an issue on which we don't agree", VMRO-DPMNE declared.
Leader of BDI (Democratic Union for Integration), Ali Ahmeti said that Mr. Ivanov's decision is a hasty decision.
"Such decision by an illegitimate president doesn't have legitimacy. I don't think that this helps to solve the crisis and the four parties that reached the Skopje deal haven't communicated", Ahmeti said. BDI doesn't recognize Ivanov's legitimacy as president.
Leader of PDSH (Albanian Democratic Party), Menduh Thaci said that this decision radicalizes the situation and can lead the country toward dark scenarios. "This decision was a blow to the state and all chances for free and democratic elections have been jeopardized. This situation can only be solved through the intervention of the international community", Thaci said.
Other political parties have also reacted against Ivanov's decision, by demanding its abrogation and Ivanov's urgent resignation. /balkaneu.com/