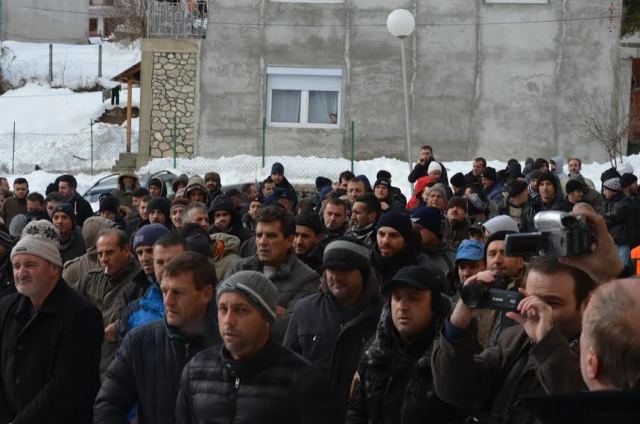 IBNA Special Report
Skopje, January 6, 2015/Independent Balkan News Agency
By Naser Pajaziti
Residents in southwestern parts of the country have started protests against power supply corporation EVN and the government.
The residents in question inhabit the rural commune of Mavrovo-Rostuse, Struga, Prespa and Diber.
They say that they have been lacking power supply for ten days in a row and for this, they accuse EVN for negligence and lack of action in remedying damages.
A massive protest was held last night in Mavrovo, where thousands of residents rallied in front of the commune, by demanding explanations from the head of the commune and government authorities.
"EVN says that all areas have power supply, but we inform them that 13 villages with 12 thousand people living in them, are still without power supply. For nine days in a row, we've used candles like 200 years ago. We're in the dark and without heating, while many domestic appliances have been damaged", said protesters who have formed an emergency team.
They are warning that they will file a lawsuit against EVN for compensation, due to the numerous damages that have been caused. The mayor of Mavrovo-Rostuse, Mukrem Mehmedi said that he supports the citizens in their protest against EVN.
"I support the protest of the citizens, because this area cannot be ignored and live without power supply. The power supply network is not being maintained like it should by EVN", said Mehmedi, who is part of the emergency group that will seek damages from the corporation.
Similar protests have also taken place in Prespa, where the residents of several villages have sought damages from EVN. These protests have also been joined by local businesses, who claim that their activities have seen great damages due to the lack of power supply.
Tens of residents rallied two days ago in the Struga region in front of EVN's regional offices.
The energy crisis was caused by the intensive storm that started last year, which caused damages in the power supply network. Residents claim that the damages have been caused as a result of the old power supply network in the western and southwestern part of the country, installed from the former Yugoslav federation period.
But, EVN says that all problematic areas are supplied with power and work is being done in order to avoid problems in inhabited mountain areas.
"EVN's operation which lasted several days in the regions that suffered the crisis finished, but we will continue to have teams on field to repair all defects caused by the bad weather", declared EVN's representative, Igor Gievski.
Since 2006, EVN has acquired 90% of the shares of the state owned power supplier formerly known as ESM AD, while today, it's known as EVN Macedonia AD. The company covers the entire territory of the country and supplies 720 thousand customers. /ibna/