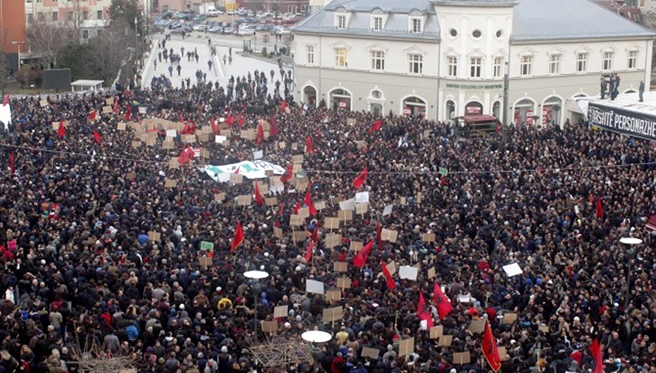 IBNA Special Report
Pristina, January 27, 2015/Independent Balkan News Agency
By Elton Tota
Opposition parties in Kosovo have called a protest today about the dismissal of the minister for Communities and Returns, Aleksandar Jablanovic and for the Trepce to become a special public enterprise. The protest comes after PM Isa Mustafa refused the ultimatum of the opposition to meet the demands in question.
While opposition parties say that today's protest has no political character, analysts say that this protest may be used for these types of purposes. They say that police must be careful with protesters who may use the protest to avoid the good intentional message of this revolt.
The leader of the largest opposition party, Self Determination, Albin Kurti, says that today's protest is nationwide.
Today's protest is not political, but it will be nationwide and will have participants from all domains, regardless of age, gender, religion, etc. Protests will continue until PM Isa Mustafa dismisses the Serb minister", declared he.
Leader of AAK, Ramush Haradinaj, called on citizens to protest today in the center of Pristina.
"The Alliance never failed in its efforts to consolidate a free and equal society in Kosovo, with strong and independent state institutions. I'm sad about the future of Kosovo and its citizens. This government is failing in restoring hope in the country, by failing and insulting and by destroying the state by making our life harder", declared Haradinaj.
Meanwhile, experts of political developments in Kosovo say that protests are a legitimate and democratic right, but they must not escalate violence.
Skender Perteshi, a researcher from the Kosovo Center for Security Studies, says that there are people who don't want the good of the country and can use the protest to distort its message.
Nevertheless, he recommends to law and order institutions to apply the law and respect human rights.
"What I would recommend to law and order forces is to apply the law, in order to protect public property, but by also respecting their human rights. On the other hand, organizers must be very careful while organizing the protest in order not to resort to violence", said Perteshi.
Meanwhile, sociology expert, Artan Muhaxhiri says that the citizens of Kosovo are protesting because the government of Kosovo is not offering better living standards.
Kosovo has many elementary problems and as a result, there's a lot of social anger, which has been accumulated through the time, says Muhaxhiri.
"The way this anger is expressed in the form of protests depends on the format of the protest", says Muhaxhiri.
Muhaxhiri says that a 'moral authority' is lacking in order for unsatisfied people to follow.
"A moral authority that would be followed by the masses and which would be seen as an opposition by the political spectrum, is lacking. There isn't one, because in the majority of cases, protests are politically used", says Muhaxhiri. /ibna/