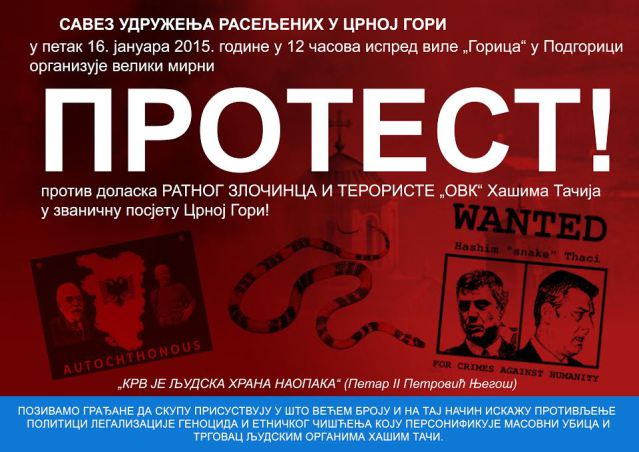 Podgorica, January 14, 2014/ Independent Balkan News Agency
By Adnan Prekic
The first official visit of Deputy Prime Minister of Kosovo and Minister of Foreign Affairs Hashim Thaci to Montenegro caused many reactions in Montenegrin public. Associations of refugees from Kosovo announced the protests.
The visit of Hasim Thaci has also been condemned by the representatives of right-wing political parties as well as the metropolitanate of the Serbian Orthodox Church in Montenegro. Montenegro has supported the independence of Kosovo in October 2008.
On the eve of the visit of Deputy Prime Minister of Kosovo and Minister of Foreign Affairs Minister Hashim Thaci, security measures in Montenegro have intensified. According to media reports, security issues have caused Kosovo Minister to cancel the lecture on NATO integration that was scheduled.
The Union of Associations of displaced persons in Montenegro, Association of Montenegrins in Metohija and the Association of families of missing persons and Kidnapped Persons in Kosovo and Metohija "Bozur", will organize a protest due to the arrival of the Minister of Foreign Affairs of Kosovo. The protest will be organized on Friday, January 16, at 12 am in front of the villa "Gorica" in Podgorica. The protest was supported by the right-wing party "New Serbian Democracy".
During Thaci's visit, in a nearby church, the Montenegro Metropolitan of the Serbian Orthodox Church – Amfilohije, will host a liturgy for all victims in Kosovo. Right-wing parties in Montenegro announced that the recognition of Kosovo is the most shameful page in the country's history, and that is policy is an act of betrayal.
Montenegrin ambassador in Pristina Radovan Miljanic said that Kosovo and Montenegro represent a good example of cooperation in the Balkans. He also said that relations between the two countries are friendly and on the rise. "I believe that the talks in Podgorica will be an opportunity to discuss and agree on the final demarcation of the border between the two countries, as well as the verification of the Montenegrin community in Kosovo", said Miljanic.
Montenegro has recognised the independence of Kosovo in October 2008. The government of Montenegro had said at the time that the question of Kosovo's independence is the issue of political realities and that is in the interest of Montenegro to provide stability at its borders.
After the recognition of Kosovo there were many demonstrations in Montenegro. It wasa for this reason that the government of Serbia had canceled the hospitality of the Montenegrin ambassador. Relations between Montenegro and Serbia have normalised a few years after that.