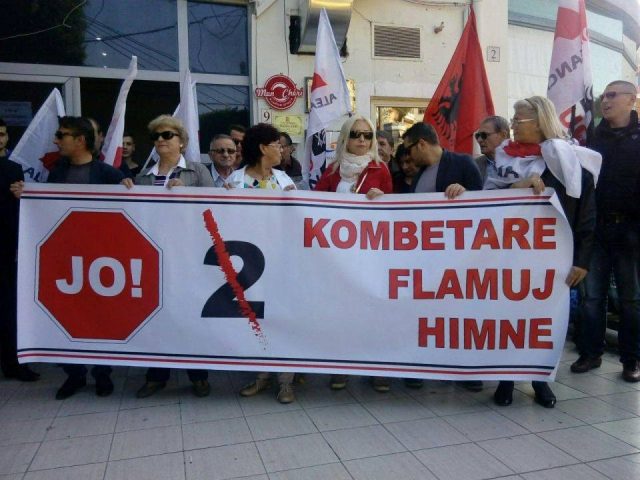 Tirana, 13 November 2015/Independent Balkan News Agency
In Tirana, the friendly football match between Kosovo and Albania was associated with protests by political and social groups.
The Red and Black Alliance gathered a number of protesters who expressed their objection to this match.
The protest was held in front of the Albanian Football Association in Tirana, before the match between two Albanian speaking countries,  kicked off in Pristina today (13.11) at 2 pm.
According to the Red and Black Alliance, no nation has two anthems, two flags, to national teams and this should be the case with Albania and Kosovo.
"Kosovo-Albania is a hostile match which deepens the divisions of the nation", Red and Black protesters said.
The match ends in a draw
The friendly match between Kosovo and Albania played in Pristina ended in a 2-2 draw. The goals for Kosovo were scored by Celina on the 58th minute and Rrashani on the 69th minute, while Manaj on the 54th and Rrahmani on the 72nd scored for De Biasi's side.
The match was characterized by a festive atmosphere between the two teams and a stadium which was full of fans, who applauded the goals.
After the match, the President of the Albanian Football Association, Armand Duka said that Kosovo deserved more than a draw against Albania.
"Kosovo's side played better than us. 2:2 is a result which satisfied all Albanians, but I believe that they could score more goals than us, as they were better than us. If they had done this, they would have deserved it", Duka said. /ibna/