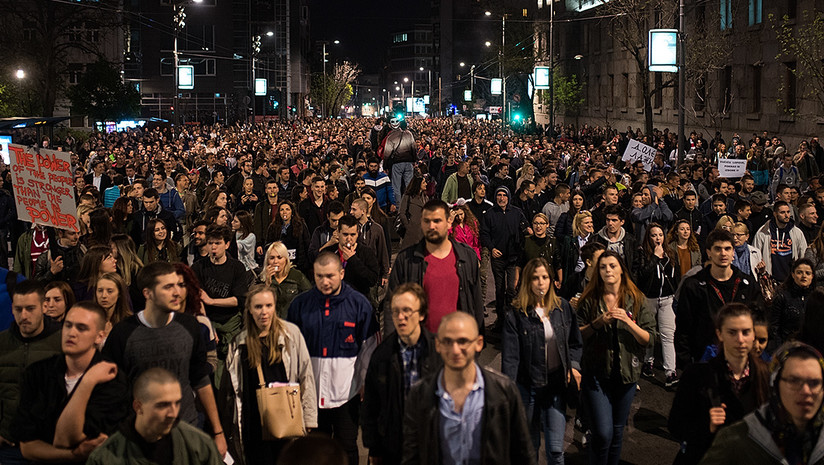 The European Union was informed that peaceful protests have been organized in Serbia and it follows them, spokeswoman of the EU's high commissioner for foreign policy and security said. According to Maja Kocijancic, the peaceful assembling and freedom of expression represent the legitimate means to express political positions.
In her statement for Danas daily, Kocijancic said that the complaints with reference to both recent presidential elections campaign and electoral process in Serbia must be tackled in accordance with the law; Kocijancic added that Brussels will refrain from any comments while this process goes on.
It is not clear yet whether students, who lead the protests "Against the dictatorship", will make a pause, due to Easter celebrations. On Wednesday evening they have demonstrated for a tenth day in row, demanding resignation of prime minister Aleksandar Vucic, National Assembly head Maja Gojkovic, as well as electoral commission members and the director and news editor of the national television (RTS).
Students claim that Vucic won the presidential elections on April 2 in voting process marred with irregularities and with assistance of state owned media.
Serbian interior minister Nebojsa Stefanovic said that the protests in Belgrade and other cities have pronouncedly political character; however, demonstrations "will not harm the image of Serbia in the world", he added.
Stefanovic said that the protesters are allowed to "march wherever they want, to hold the banners they want, but the violence is not allowed to anyone".
"It seems to me that some organizers (of the protests) are nervous because there are no policemen… There are no policemen in the streets and they cannot provoke any conflict", Stefanovic suggested in the interview for TV Pink.
Stefanovic said he was convinced that protests would not "harm" Serbia because "everybody in the world knows that they represent political attempt of those who failed to win the elections, to try to create popular dissatisfaction and to extort the will of the people". "Do you think Gabriel would come if he had thought there were any irregularities (in the elections)", Stefanovic said alluding to the visit of German FM.
Sigmar Gabriel visited Belgrade on Wednesday. He congratulated prime minister Aleksandar Vucic on his win in the first round of presidential elections on April 2./IBNA