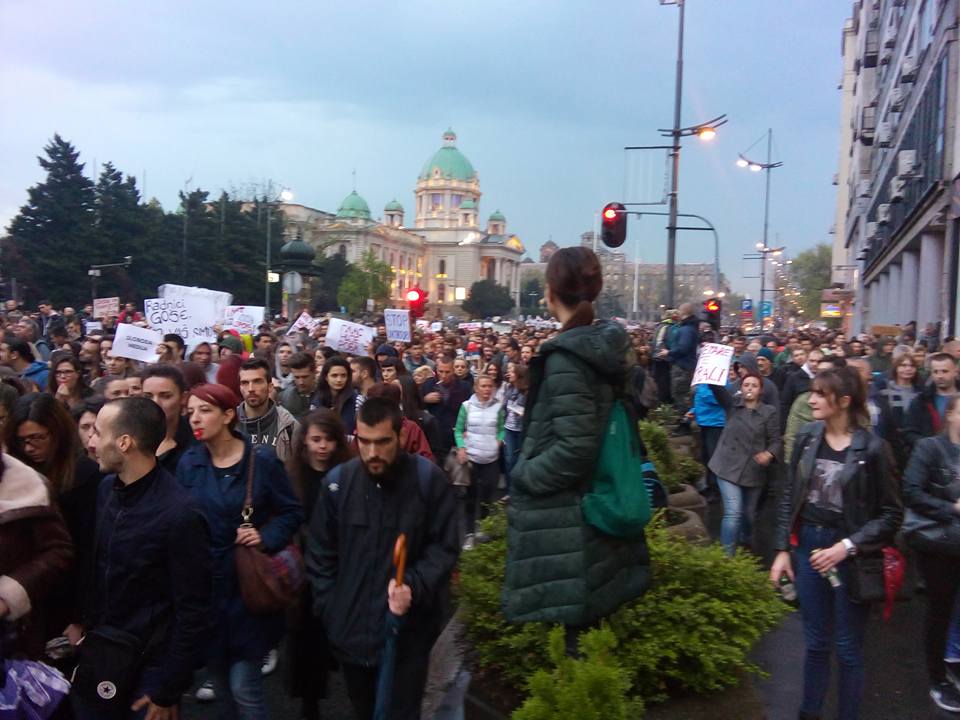 Student protests in Serbia over recent elections continued forth day in row on Thursday evening. The protests under motto "Against the dictatorship" were held in Belgrade, Novi Sad, Nis, Kragujevac and other towns. In Belgrade, protestors gathered in front of the electoral commission seat; the sackings of some of its members are among students' demands which were disclosed earlier this week.
"Where are our votes", they shouted in the central streets.
They also protested near the buildings of the pro-government broadcaster Studio B and national television (RTS). Students demand resignations of the RTS director and news editor due to their "siding with the regime" of prime minister Aleksandar Vucic during the electoral campaign.
On Sunday voting Vucic was elected new Serbian president with 55 percent of the vote, leaving the opponents far behind him. Former ombudsman Sasa Jankovic came second with 16 percent. Elections watchdogs have not questioned the results or standards of voting process, while foreign officials, including those from the EU and US, congratulated Vucic.
At the same time, Russian officials claim that Serbia is faced with the attempt of "colored revolution", as Sergey Zelheznyak, member of State Duma suggested, or stress that country should "remain stable" – by the words of Maria Zakharova, director in Ministry of Foreign Affairs on Moscow. Russian president Vladimir Putin received Vucic in Kremlin a few days before the elections.
At the same time, in a highly unexpected move, the Serbian far right and pro-Russian leader Vojislav Seselj said that he supports the demands of students; Seselj said that Vucic has "brainwashed" Serbian public and that he would not congratulate him. Seselj, who scored below five percent, in what was probably the worst result in his career, also suggested that elections were not fair.
The pro-European candidates in recent elections also supported the protests. But students insist that they are not siding with any of politicians. The absence of formal organizers or leaders of the protests sparked speculations, with pro-Vucic's tabloids claiming George Soros or NATO were behind them.
In the interview for Politico, Vucic suggested that students "hate" him./IBNA