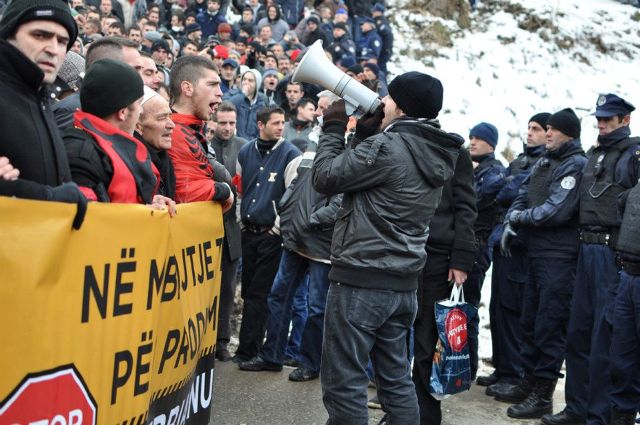 IBNA Special Report
Pristina, January 23, 2015/Independent Balkan News Agency
By Elton Tota
Protests have recently intensified in Kosovo as a result of discontent among the citizens and workers.
Miners' strike, protest against KEDS, protest against Serb minister, Aleksandar Jablanovic, the announced teachers' strike, the protest of the former KLA fighters and many citizens leaving the country reflect this discontent.
Analysts in Kosovo have different opinions on this situation that the country is going through.
Expert of security affairs, Ramadan Qehaja says that Kosovo doesn't need protests at this time.
"Our politicians and all of those who seek protests, must first of all think about security in Kosovo. Destabilization of the situation would be fatal for our country in the security aspect", says he.
Meanwhile, Qehaja has demanded from the opposition not to exploit this situation for political purposes.
Meanwhile, the prominent analyst from Kosovo, Halil Matoshi says that all of this discontent has been accumulated during the 15 years that followed the war.
"Kosovo is the same as two or three years ago. It's going through the same problems. We are not poorer than yesterday, but today, citizens have lost all hope, because this seed was planted by a leadership which is totally incompetent and irresponsible", says he.
According to him, power has been and continues to be personal not only for the citizens, but for the Republic too.
Mustafa: There's a danger for state bankruptcy
The Prime Minister of the country, Isa Mustafa, commented these protests today (23.01), by saying that he appreciates the right of protest, but he doesn't see a solution by immediately resorting to them.
Mustafa says that some issues are hard to be solved, especially at a time when at the first month of his term in office, he faces demands for a 25% pay increase, the enrollment of over 1 thousand young people at the University of Pristina, protests for the declaration issued by minister Jablanovic and the situation in Trepca.
He says that he was informed by neither KAP, nor Trepce's directorate or the people responsible for this in the previous government about the dangers of Trepce's mine going bust.
Mustafa has criticized the political vocabulary and here, he has referred to the vocabulary used by minister Jablanovic. According to him, there must be facts in order to issue such declarations.
He says that "it's not a good thing to call people beasts, but on the other hand, it's not even acceptable to call someone a criminal, fascist or a killer".
Mustafa said that the families of missing people and their tragedy must not be exploited. He says that miners must not be exploited to cover shady businesses being done with the Trepce's resources. According to him, these businesses cannot be covered by making Trepce a public company or by creating the necessary conditions for it to go bust, in order for every record to disappear.
"Things must be clarified and I, as the head of the government, must clarify them".
Mustafa also talked about salaries by saying that there are no funds for them. According to Mustafa, salaries in the public sector in Kosovo are higher than in other countries of the region, which have a higher GDP and a higher GNP per capita. But, according to him, they are not protesting or holding strikes.
Mustafa said that salary policies in public companies and educational institutions are "policies that are taking the state to bankruptcy". /ibna/