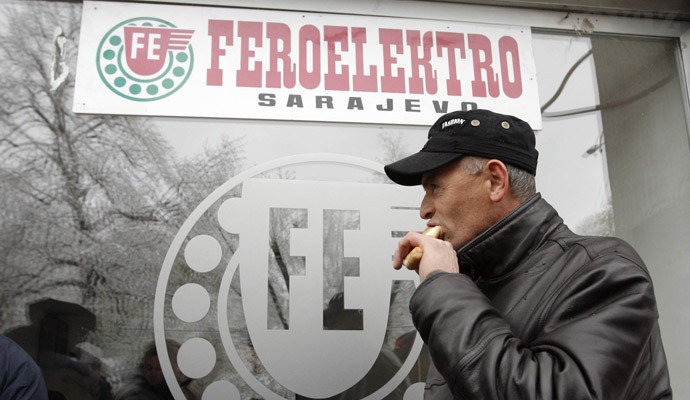 By Maja Tuljković – Sarajevo
Protests of dissatisfy employees are taking place today throughout B&H, who seek for their unpaid wages and in general to be respected their rights as employees. Today, employees of GRAS, within the circle of companies in Sarajevo are protesting due to the unpaid January wage and non-fulfillment of promises from the representatives of Sarajevo Canton Assembly. Several hundred employees repeated today in Tuzla their requests and asked from the judicial institutions to finally complete their tasks that have already started.
Employees of Feroelektro gathered this morning in front of Municipal Court in Sarajevo. 20 of them came, while their colleagues from Zenica and Mostar could not join them because they did not receive salaries for already 21 months and thus were unable to come to protests.
Feroelektro employees gathered in front of the building of Municipal Court in Sarajevo, where a hearing on the lawsuit of the FB&H Agency for Privatization on the termination of the purchase contract with Stanić Invest is held. Employees protest due to the delays on solving this case, which is taking place since 2008. The Cantonal Court in Sarajevo has accepted the complain of Stanić Invest on Municipal court decision based on which is terminated the purchasing contract due to the alleged procedural mistakes.
According to the purchase contract, Feroelektro should have invested 22.5 million BAM, but only 1.6 million BAM are invested. Also, according to the contract, another 220 employees should have received working contract, however, that number has been reduced in 50, which is 270 employees less than claimed in the contract.  Employee wages should have been formed based on the expertise, working position, but employees receive minimum wages, which are late. They do not receive any money for food, and their health insurance is not being paid for months.
Senad Smajić, the President of Feroelektro  Employees Union attended briefly today's hearing, but he had to leave the courtroom because the attorney of "Stanić –Invest" group insisted. He said that the judge requested to gather all the evidences and the main hearing to be held on 6 May, while the attorney of Stanić group asked for extension of deadline in order to introduce new evidences and witnesses.
However, 6 May as the date for the main hearing is confirmed by the end of today's hearing on the complaint of Agency for Privatization on the termination of the purchase contract of Feroelektro  with Stanić Invest. President of Feroelektro Union Senad Smajić and employees are satisfied considering that the practice was to schedule hearings from 4 to 6 months, although the attorney of Stanić Invest tried to prolong the maintenance of the main hearing.
Feroelektro employees say that they will not give up and after today's hearing they will decide on further steps.