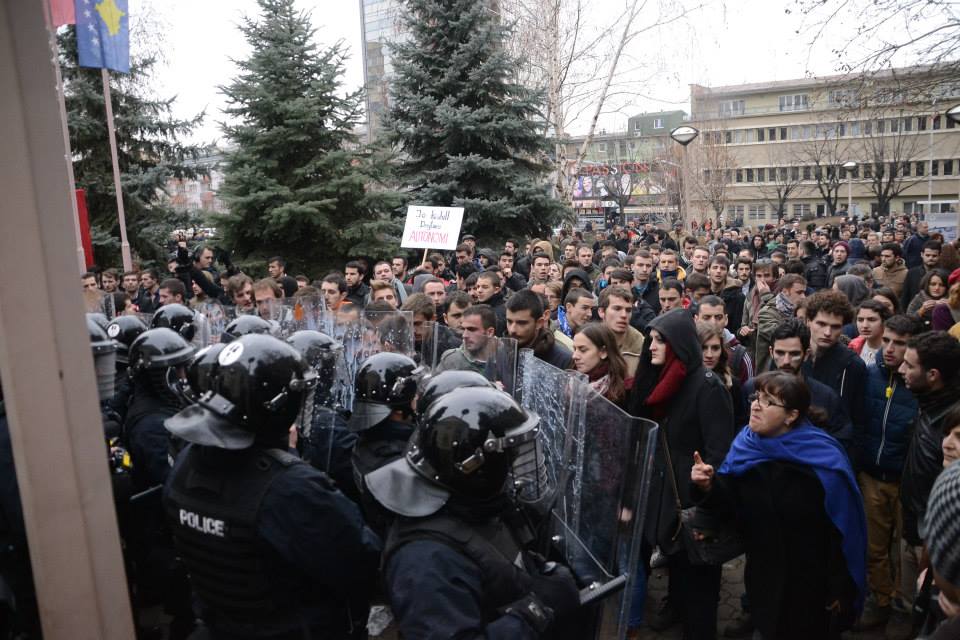 Pristina, February 6, 2013/Balkan Independent News Agency
While the protest of students and civil society has entered its 8th day in front of the University of Pristina, opposition parties in parliament have demanded the resignation of the dean of the university, Ibrahim Gashi.
In several cases, police has intervened through special units and this has resulted in the injury of several protesters and police officers.
"The first time that we marched, you had to stop in front of the university, whereas today you marked a victory because you're in front of the doors of the dean's office", said the activist of civil society, Ilir Deda.
Meanwhile, "COHU!" organization activist, Avni Zogiani has criticized the violence used against protesting students, by criticizing the government and police. "Police of Kosovo is not in the north. Parallel structures and PDK companies are in the north. Police shows this kind of determination only with you", said Zogiani.
Due to the current situation, University of Pristina, LDK, AAK and Self determination have demanded Gashi's resignation and of the Steering Committee of the University of Pristina, due to the situation of the recent days in this institution. During the debate launched by LDK on the situation at UP, MPs demanded from the government to distance itself from "Hasan Prishtina" university.
On behalf of LDK, Lirie Kajtazi MP demanded Gashi's resignation and resignation of the Steering Committee of the University of Pristina.
"This dean and this committee have lost their credibility to further lead this institution. Therefore we demand their immediate resignation. UP's dean, Ibrahim Gashi and the Steering Committee must resign in order for normality in this institution to be reinstated", said Kajtazi.
Meanwhile, Self Determination MP, Afrim Kasolli demanded another urgent action besides the resignation.
"Police forces must immediately leave the university premises, because ignorance cannot be protected through repressive measures", said Kasolli.
The resignation of the Steering Committee of the University was also demanded by AAK member of parliament, Teuta Haxhiu.
"As a party, we strongly believe in the legitimate demands of students, but those who try to manipulate with students are manipulators and nothing more", said Haxhiu.
PDK member of parliament, Rame Vataj who is at the same time professor at this university, defended the leading board of this institution and Ministry of Education.
"This is a good incentive which has started with the UP and continue with the Academy of Sciences, where there have been serious violations in recruiting new members of the academy", said Vataj.
Meanwhile, Minister of Education, Rame Buja said that he will comply with the decisions taken by parliament.
"I will perform all my tasks based on the suggestions and recommendations of the parliamentary group, aiming at solving the crisis", said Vataj.
One of the organizers of the protests, Fitim Salihu from the Political Student Club said that the rectorate resemblesto a prison hospital.
"The rectorate is more and more looking like a prison hospital", said Salihu. /ibna/