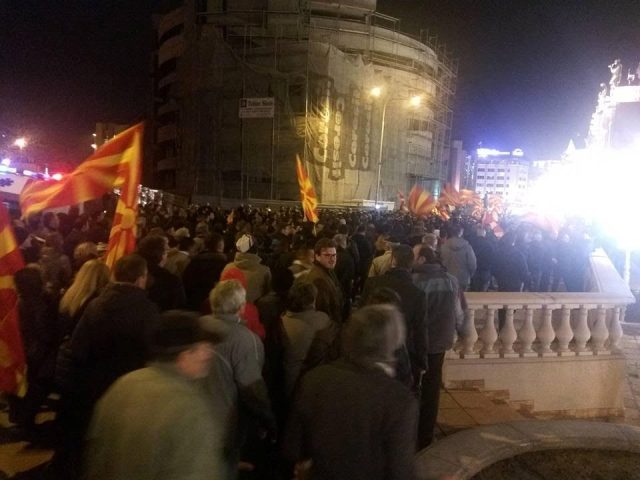 Skopje, 16 March 2016/Independent Balkan News Agency
By Naser Pajaziti
Last night there were protests and counter protests in front of the Constitutional Court in Skopje, because today, this court is expected to approve the changes in the amnesty law, through which the president of the country will pardon those people who were involved in electoral rigging, pedophilia and several other categories of crime. Some NGOs held a protest last night in front of the court, demanding for these amendments not to be approved. The protest was also joined by Macedonian opposition parties.
But before the start of the protest of these NGOs and the opposition, VMRO-DPMNE supporters gathered in front of the Constitutional Court to protect the institutions of the country. They set up tents and said that they would stay there to protect institutions. Last night, police increased security measures by preventing crowds from approaching each other.
The head of the Civil Movement for Macedonian Stevce Jakimovski said that nobody has the right to stop institutions from doing their job. Along with other supports, he is staying in the tents that have been set up.
"We believe that institutions must work based on the law. How can the Constitutional Court do its job based on these conditions", Jakimovski said.
SDSM leader, Zoran Zaev, who joined the protest against the court decision, said that the counter protests are absurd.
"Counter protests are an absurd act of those who govern the country and who want to cause conflicts between the people. But we will not allow them. The protest will be peaceful and we all hope that the court will do the right thing", Zaev said.
The incentive for the amendments of the amnesty law came a few days after the Special Prosecution filed a lawsuit for electoral rigging and forgery against former Interior minister, Gordana Jankulovska, former minister of Transport, several other VMRO-DPMNE officials but also officials of their coalition party, BDI (Democratic Union for Integration). In the first phase, five chief judges gave the green light for the amnesty and the final approval is expected to be made today.
Petrit Saracina of the platform for civil policies "Ajde", told IBNA that they will not give up on their protests.
"A part of the people are counter protesting against their will", Saracini said. He said that their protests will continue and that they are expecting the decision of the Constitutional Court. /ibna/