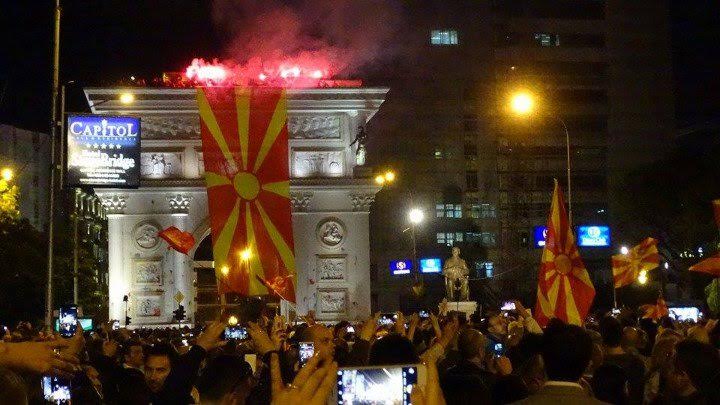 Skopje, 22 April 2016/Independent Balkan News Agency
By Naser Pajaziti
Two massive protests were held last night in Skopje with the presence of many police forces. On one hand there were protests by civil organizations backed by the opposition, while on the other, there was a rally in favor of the government and the party in power, VMRO-DPMNE.
After marching in front of the Special Prosecution and EU office, protesters rallied in front of the government building. Vlatko, an activist of the civil organization "I protest", told IBNA that colors have their symbols, as they are part of the so called "Revolution of Colors". "We will continue with our protests by insisting on our demands in order for president George Ivanov to abolish the amnesty for 56 corrupted politicians. But at the same time, we also want the June 5 elections to be cancelled.
Other protesters in front of parliament rally against the opposition
On the other hand, thousands of people rallied in front of parliament to support the party in power VMRO-DPMNE. This rally was organized by Civil Organization for the Protection of Macedonia-GDOM. Representative of this movement, Aleksandar Pandov said that they are rallying in support of the elections being held on June 5 and according to him, nothing would stop these elections from being held. He said that many civil organizations and political parties are working to cause instability.
"As representative of this movement, I would like to say that we will send an incentive to the Constitutional Court, which we respect, to suspend the work of all civil organizations, foundations, political parties, which for the moment are damaging Macedonia", said Aleksandar Pandov.
In this protest there were banners with massages such as "Macedonia not in the EU", "NATO is a terrorist organization, Macedonia forever", but afterwards the organizers of the protest said that these messages do not belong to them, but to groups who are against their protest.
Other protests were held in cities such as Gostivar, Manastir, Stip, Kumanovo against the June 5 elections and the decision of president Ivanov to pardon 56 politicians involved in unlawful and corrupt acts. Civil organization "I protest" has announced that it will continue these protests in the days to come. /balkaneu.com/