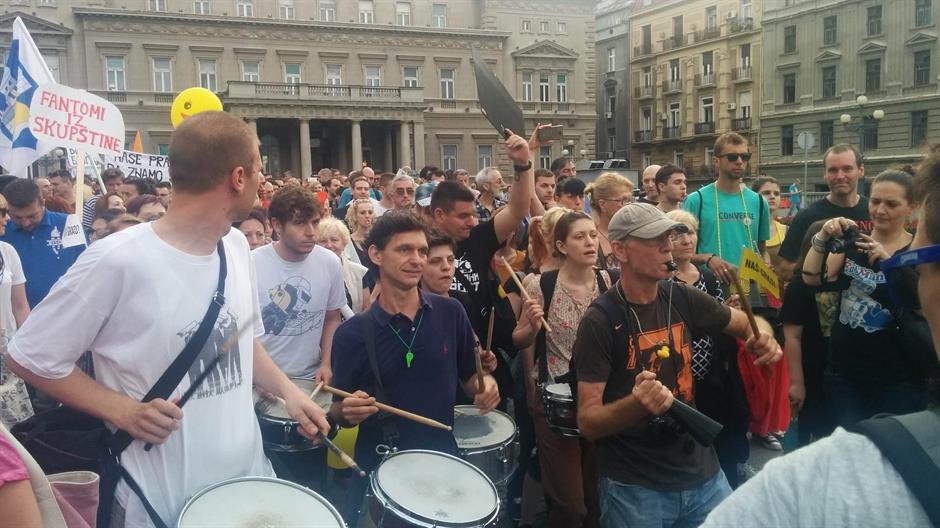 Belgrade, June 12, 2016/ Independent Balkan News Agency
By Milos Mitrovic
Thousands of people protested over illegal demolishing in the center of Belgrade on Saturday evening. "The rule of law was suspended for two hours", former Supreme Court judge Zoran Ivosevic said at the rally in front of the Belgrade City Assembly alluding to April 24 events. During the protest, third in row, the citizens have also marched near the government building.
Earlier this week Prime Minister Aleksandar Vucic said that "highest Belgrade authorities" were responsible for the action conducted overnight by masked men and bulldozers. Media speculated that mayor Sinisa Mali would be dismissed. However, Vucic defended him saying that if demolishing has been organized at the daylight he would also take part.
The citizens, owners of crushed objects, were illegally detained during the action. But Vucic labeled them as "criminals".
"Aleksandar Vucic has blamed top city authorities without mentioning their names. Top city authorities cannot give orders to police which is part of executive power and the government. Vucic's admittance of others mistake is not useful, because top city authorities are still silent", Ivosevic said.
Initially, both Vucic and Mali claimed they didn't know who was responsible.
"It's high time for citizens to get the answer who were the wreckers and why their identity is being hidden", judge Ivosevic concluded.
The destroyed buildings were at the place where "Belgrade Waterfront" – United Arab Emirates financed real estate project – is to be built. According to Dragoljub Bakic from Academy of Architecture who also spoke at the protest, this issue should be central at the rallies.
"Residential skyscraper should not be the symbol of Belgrade. Belgrade with its architecture cannot overcome that project", Bakic said.
And project is "in the level of passable student work", Bakic stressed.
Vucic's "arguing with himself" at his media conferences is the best promotion for the protests that should attract even more people, movies director Janko Baljak said.