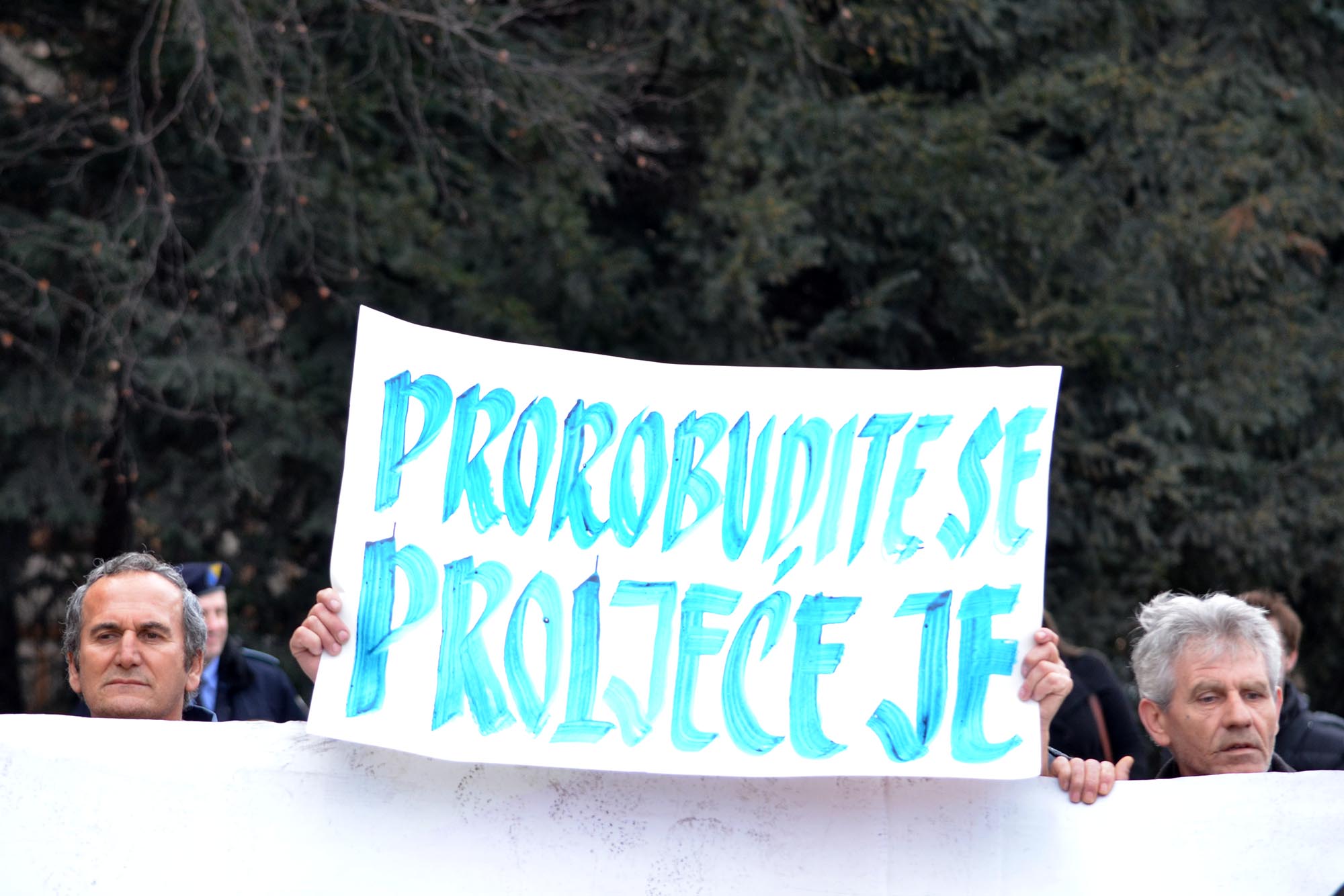 By Medina Malagic – Sarajevo
The protests continue in Sarajevo today, and every day protestors gather in the same area where they block traffic from the main street, MarsalaTita for a few hours. Today, there are around 150 people on the street, and they are holding banners and are still demanding the resignation of the entire government of the Federation entity of Bosnia-Herzegovina (FB&H).
Yesterday, there was not that many people on the streets of Sarajevo at the protests, and protestors stopped passerbys and asked them to stay at the protests for at least 15 minutes to show their support to the cause.
Most of the protestors so far have been older people (veterans and retirees), but there are not that many students at the protests. There have been calls for students of Sarajevo to gather in large numbers in order to show their support, but so far there has not been a high turnout of students at the protests.
In addition, today employees of the hotel Holiday Inn joined the protests. Holiday Inn employees have been on strike for a week already, demanding their salaries that they have not received in over one year.
Protestors in Sarajevo are more vocal, since today is the deadline for the Sarajevo Canton Assembly to respond to the demands that were articulated at the Sarajevo citizens Plenum.
The demands of the citizens Plenum include abolishing the financial perks to ministers after they leave their post, auditing privatization activities of former public companies, resignation of FB&H government and the appointment of an expert and non-party government that would be in consultation with the Plenum, reducing salaries and benefits of Sarajevo Canton public officials, and an investigation into the police arrests and mistreatment by the police on the events that took place on 7 February, where violent attacks broke out and culminated in the burning of the B&H Presidency and the Sarajevo Canton government building.
Protestors have said that if their demands are not met by tomorrow at noon, which is the deadline, they would hold a massive protest in Sarajevo on Saturday and will block the entire city.
Peaceful protests continue in other B&H cities, and in Tuzla, where the Plenums have proven to be the most organized, with some of their demands already met and representatives of the Plenum are in contact with the Cantonal Assembly of Tuzla.
Plenums are taking place in other B&H cities, and the demands of the citizens at the Plenums are similar, but progressing at a different pace in these cities. The Plenums are also B&H's first experience with direct democracy.