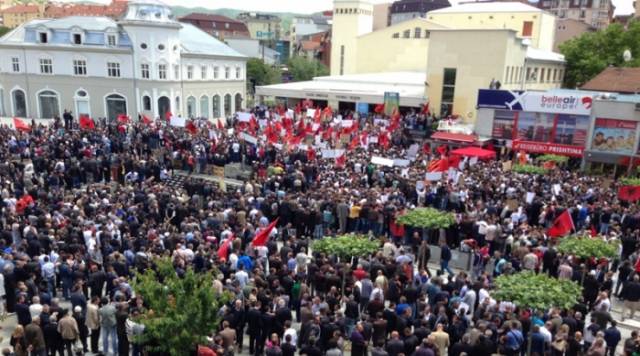 Pristina, May 27, 2013
Thousands of protestors that demanded for the former members of Kosovo Liberation Army to be freed have peacefully ended their protest where they demanded for EULEX mandate to be reviewed.
Protestors have called upon the leaders of the country, to the President, Prime Minister and Speaker of Parliament to review EULEX mandate, claiming that they are not being fair.
The crowd was also addressed through a speech by the renowned activist Adem Demaci, while singer Leonora Jakupi has performed a song in front of protestors.
Protestors have warned that the situation may be destabilized. "Should the situation be destabilized, EULEX and institutions of Kosovo will be responsible. We require all the fighters of KLA to be freed", said the chairman of the association of the families of martyrs of KLA, Xhavit Jashari.
Meanwhile, Demaci said that EULEX must investigate the killing of thousands of Albanians. "We invited EULEX here to shed light upon the killing of thousands of Albanians, upon the crimes committed by Serbs, upon the disappearance of Ukshi Hoti", said Demaci in front of protestors.
The protest was also joined by several lawmakers of the Democratic Party of Kosovo such as Ganimete Musliu, Blerta Deliu and Berat Buzhala along with the vice minister who resigned a few days ago and who belonged to this party. /ibna/