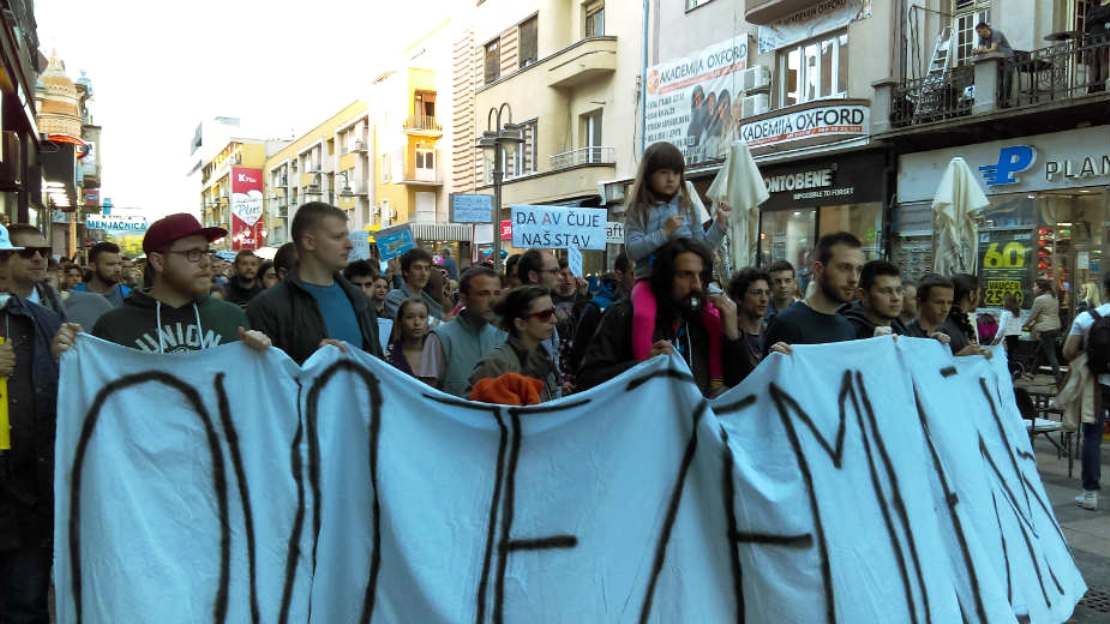 "Protests against dictatorship" in Serbia continued on Friday evening, twelfth day in row.
Due to Easter holidays, there were fewer people in the streets and organizers in some towns announced "pause" for holiday. In Belgrade, protesters, mostly students, marched in their usual route – starting in front of the parliament building, than "visiting" pro-government media, with finish ahead of national broadcaster seat. "Revolution goes on", students shouted.
In Nis, students were accompanied by higher percentage of pensioners when compared to previous days, according to accounts; the organizers said that, after the "break" on Sunday, they would stage public debate on demands for the authorities. They invited all citizens, including trade unions and different types of organizations, to suggest their proposals for the "final list of local demands".
At this moment, anti-corruption requests are the most numerous, especially tighter control over city budget, public institutions and officials, the correspondent with Danas daily reports. The organizers urge cancelling of "double positions" and fight against nepotism, as well as "cleaning" city administration from those "fictionally employed" and transparency in hiring.
Protesters also demand criminal charging against judges who failed to act in cases against the "political elite", and preventing persons involved in "political scandals" from administering in public affairs.
The subsidies for foreign firms which "exploit" workers should be redirected to domestic companies, entrepreneurs and farmers in order to "stop damnable privatization", students stated in draft document. They also request unpaid salaries for "failed enterprises" workers.
Media freedom and creating asylum for dogs are too in the list. Just like in Belgrade and other cities, students say that they are not affiliated with any political party.
The protests in Serbia started on April 3, one day after prime minister Aleksandar Vucic won presidential elections. The students insist that elections were unfair, with fraudulent electoral process and Vucic's media dominance. They demand the resignation of Vucic and other officials, including electoral commission members and director and news editor of the national television (RTS)./ΙΒΝΑ
PHOTO: Protest in Nis