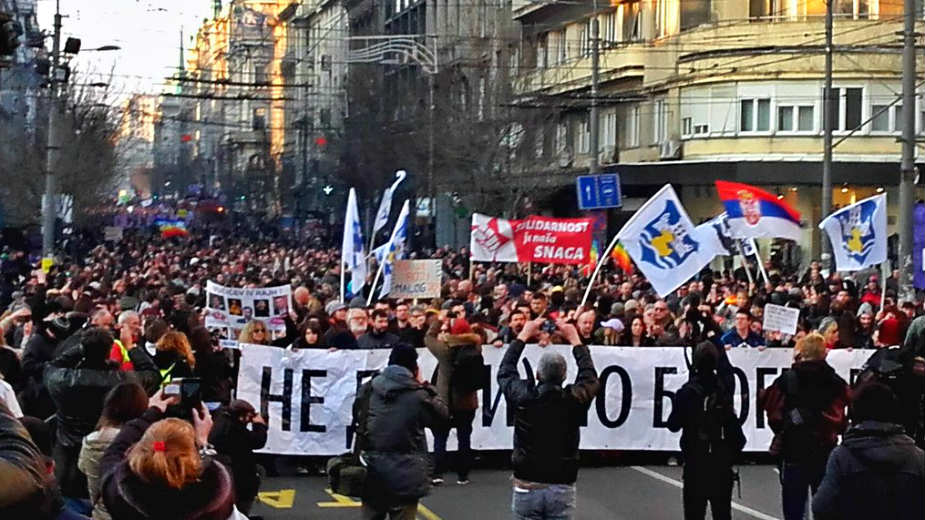 Several thousand protestors have demanded today  the resignation of Belgrade's mayor Sinisa Mali over the 2016 illegal demolishing in the inner city. The protests were sparked by Mali's ex-wife confession, according to which he admitted his central role in controversial events.
Earlier, prime minister Aleksandar Vucic had claimed that Mali would not "remain too long" on his position.
Radomir Lazovic, the organizer of the protests, which also took place several times last year, said that Mali must not remain mayor. "It cannot be delays and affectations", Lazovic said.
On April 24, 2016, the buildings in the center of Belgrade, at the place of planned "Belgrade Waterfront" complex, were demolished overnight; local residents were illegally detained. Serbian judiciary has not indicted anyone so far, while European Commission demanded legal action.
"We are close to victory, here we are together again. Bravo for your commitment and readiness to fight for our city, with whole our heart, truth and solidarity", Lazovic said.
The regime cannot do what it wants with the citizens of Serbia, law professor Vesna Rakic Vodinelic said. She interpreted Vucic's announcement that Mali will not remain mayor for "too long" as a "judgement" that he would be accountable only before his political party's court.
"We demand truth about what has happened. We do not to live in lies. The citizens of Belgrade and Serbia will learn the reasons for silence and the reasons for the demolishing", Vodinelic said appealing to prosecutors to do their job as defined by the Constitution.
Jovana Gligorijevic, a journalist with Vreme weekly, talked about "shameful" negligence of Mali's ex-wife's statements by the most of Serbian media. She stressed the fact that all national broadcasters did not report about Marija Mali's confession.
The protest was over with a rally in front of the courts in Belgrade. Vucic's Serbian Progressive Party organized counter-protest; the participants labeled protestors against Mali as foreign agents./IBNA