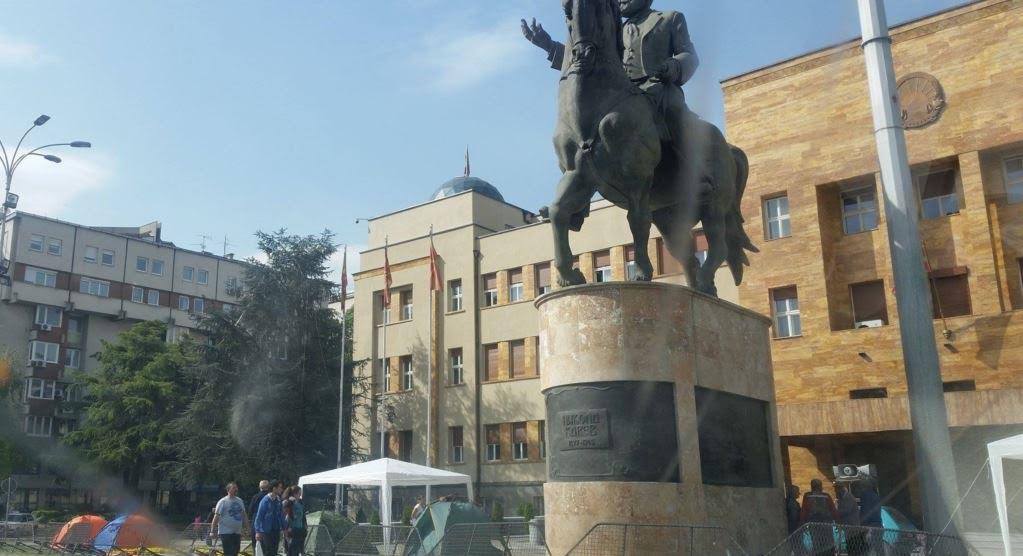 Tens of protesters in Skopje have spent last night in tents which they set up in front of Parliament. Meanwhile, riot police have taken the Parliament's premises under control, following last night's violence where 4 MPs and around 100 protesters remained wounded. According to the ministry of Interior, situation in Skopje is calm. This morning, Prosecution declared that it is following the events relating to last night's violence in Parliament and has taken measures to shed light on them.
Minister of Interior admits lack of efficiency within police
The Minister of Interior, Agim Nuhiu has commented the events occurred last night in Parliament. Minister Nuhiu said that the situation escalated because police didn't react fast and efficiently, while admitting that within police forces there are political interests.
"Particular groups have caused incidents and violence against MPs. As minister of Interior, I share my conviction that police haven't reacted fast and efficiently, because within police forces, there are political interests. I have ordered for police to take adequate measures to evacuate MPs out of Parliament and we are making investigations within police ranks", Nuhiu said.
Reactions by political parties
The leader of VMRO-DPMNE, Nikola Gruevski has held a press conference around 4 am on Friday, declaring that he condemns the violent acts that occurred in Parliament where several MPs were attacked.
He called on institutions to react fast and discover the aggressors.
"I have never wanted to remain in power through violence. I call on those who are protesting in front of Parliament not to be treated the same. I praise the efforts of VMRO-DPMNE, who did everything to help injured MPs", Gruevski declared. He said that he condemns the way SDSM and other parties have decided to elect the speaker of Parliament in what he considered to be an unlawful way.
On the other hand, Macedonian Social Democratic Union (SDSM) said that violence is unacceptable and that the people responsible for it must be held accountable.
SDSM also said that the priority of the people is to fulfill the will that they expressed through their vote by making a fast and smooth transfer of power.
"Violence against MPs is a result of the policies of hate, conflict and chaos encouraged by Nikola Gruevski and supported by Gjorge Ivanov and Trajko Veljanovski, but this will not be repeated any more. They will be held accountable for putting people's lives in danger and for other crimes that VMRO-DPMNE's leadership is responsible for", SDSM said.
The violence was also condemned by political parties, where the MP of the Alliance for Albanians, Ziadin Sela remained seriously injured. This party demanded a full investigation over last night's incidents in Parliament and the fact that police didn't react on time.
The President of the country, Gjorge Ivanov has called a meeting today between political leaders to discuss a solution following last evening's violent events in Parliament. But, the majority of political parties have warned that they will not participate in such meeting, as Ivanov is one of the instigators of the violence. /balkaneu.com/