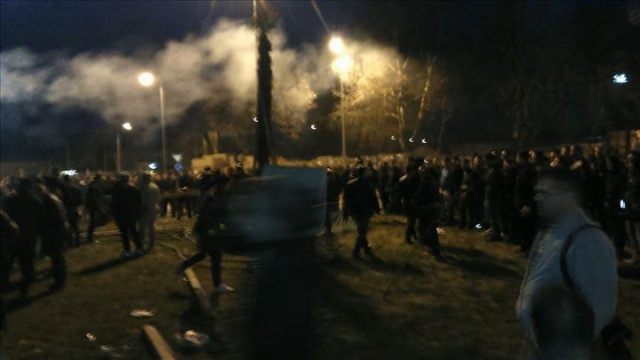 Skopje, 3 March 2016/Independent Balkan News Agency
By Naser Pajaziti
Hundreds of activists of the Albanian party in power, BDI (Democratic Union for Integration) are protesting in front of the commune of Butel in Skopje against the erection of a giant cross.
Protesters have arrived have also reached the location where the cross was planned to be erected by destroying the foundations, while putting red and black flags there.
The protest was led by senior leaders of this party, but also ministers, heads of communes and other state officials.
The heads of BDI have delivered a letter to the commune of Butel, through which they explain their stance against the erection of the cross.
Vice chairman of BDI and head of the commune of Cair, Izet Medziti declared that the erection of this cost is provoking Albanians as the second largest community here.
"We call on the commune of Butel and on the institutions that have brought this unlawful decision, to preserve cohabitation, to respect the Ohrid Agreement and not to abuse with religious symbols. These are dangerous games", declared Izet Medziti.
Meanwhile, the leader of this party was summoned at the Special Prosecution last evening to testify in a case relating to the wiretapping affair. /ibna/