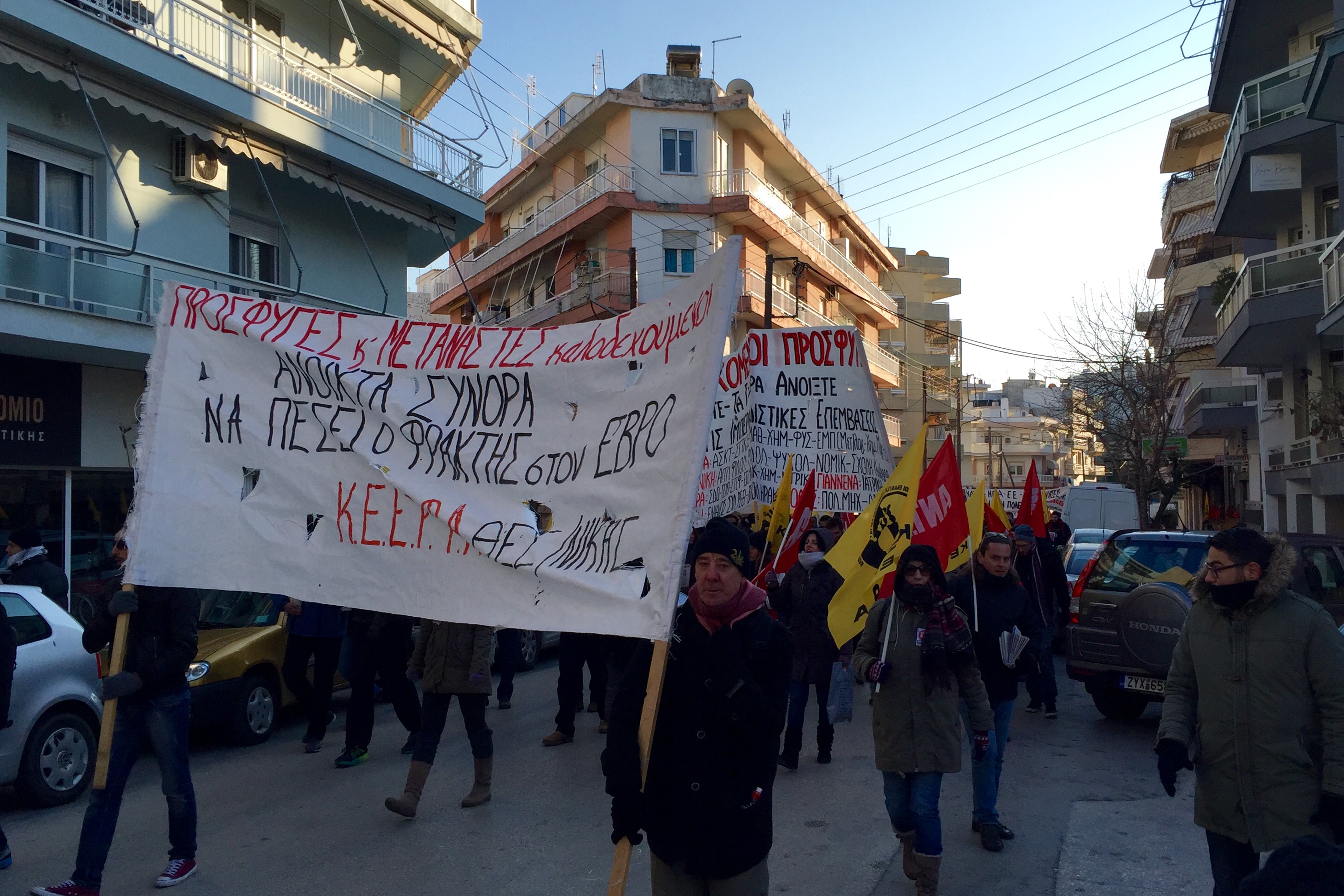 Alexandroupoli, January 24, 2016/ Independent Balkan News Agebcy
By Marina Spyropoulou
Against the backdrop of the latest tragedy in the Aegean where at least 45 refugees and migrants lost their lives on Friday attempting to reach the Greek islands from Turkey, protesters marched to the Evros river border fence on Sunday demanding that it will be taken down to provide a safe passage to Europe to people fleeing war zones.
Anti-racist groups, trade unions and migrant communities from all over Greece joined forces in a two day solidarity mobilization for the refugees organized near the fence at the Greek-Turkish land border in the framework of an international campaign.
From Calais to Instanbul thousands of demonstrators took to the streets this weekend to call for an end to wars and the protection of refugees.
"Open the borders. Refugees are welcome" chanted protesters wearing life vests at Evros fence.
In recent months the attention has shifted to the 4 meters tall fence erected four years ago along the 12.5-kilometer stretch of land separating Greece and Turkey, as the death toll in the Aegean Sea is on the rise.
Until 2012 this point of passage was the safest route from Turkey to Greece. On average 100,000 people would cross over through the strip each year. After the construction of the controversial fence migration numbers in the region fell dramatically by 90-95 percent.
There had been warnings that fences do not discourage desperate people to seek alternative ways. Smugglers moved their lucrative business to Turkey's shores opposite to the Greek islands.
In 2015 more than 800,000 refugees and migrants risked their lives on old overloaded boats to enter Greece via the Aegean and continue their perilous journey to Western Europe.
Despite the adverse weather conditions this winter, more than a thousand people per day are still landing on the Greek islands. More than 3,500 people have drowned in the Mediterranean during 2015, according to International Migration Organization statistics.
Responding to calls to tear down the Evros fence in recent months Greek Prime Minister Alexis Tsipras argued in late 2015 that it was an unrealistic option, since the zone is "ridden with landmines." In the past migrants and refugees have also perished in the waters of Evros river.
Protesters on Sunday replied that it is the government's responsibility to seek ways so that the "barbarity" unfolding in the Aegean comes to an end and refugees seeking a chance for survival are given a safe transit to Europe.