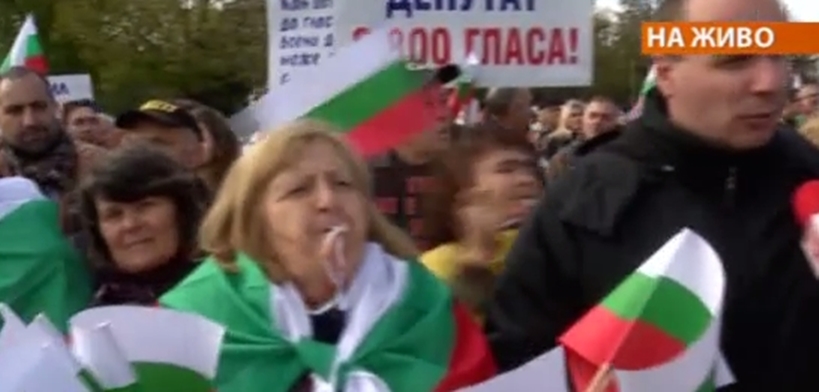 By Clive Leviev-Sawyer of the Sofia Globe
Hundreds of protesters from the Bulgarian town of Kyustendil came to central Sofia for the opening of Parliament, and blocked the road to Greece, to demand changes to election law to prevent a repeat of the "Bat Sali" affair.
"Bat Sali" is Alexander Metodiev, elected to the 43rd National Assembly on the ticket of the Movement for Rights and Freedoms – the party led and supported in the main by Bulgarians of Turkish ethnicity.
Through the mathematics of the election system currently used by Bulgaria, the sharing out of seats saw Metodiev get one in spite of having drawn just a few hundred votes.
Protests against the controversial figure have been going for weeks since the results of Bulgaria's October 5 2014 early parliamentary elections, and reached a new peak on October 27 as Parliament prepared to sit for the first time.
The mayors of Kyustendil and Dupnitsa last week held a face-to-face meeting with MRF leader Lyutvi Mestan to appeal to him to withdraw Metodiev from Parliament, but the meeting resulted only in Mestan saying that to deny Metodiev his place in the National Assembly would be a violation of the constitution and election law.
People arrived in Sofia in about 10 buses to protest. One protester told Bulgarian National Radio, "I'll tell you straight. How can Bat Sali be electd with 800 votes, bearing in mind that there is no Turkish population in Kyustendil. A representative of the MRF? No, we do not want that. We do not want it".
People from Kyustendil and Dupnitsa said that they had come to the new Parliament to demand a change to the electoral system, the introduction of majoritarian voting and the legal possibility to recall mayors and MPs who do not do their jobs properly.
Kyustendil mayor Petar Paunov and municipal council chairperson Ivan Andonov were among the protesters, who headed the MRF office with the aim of handing over a petition against Metodiev taking the oath as an MP.
An online petition against Metodiev becoming an MP drew many tens of thousands of supporters.
Along the E79 main road that heads towards Greece, people gathered singing patriotic songs. Protesters held posters reading, "Dupnitsa will be Bat Sali's city" and "From the MRF, even a donkey could be elected".