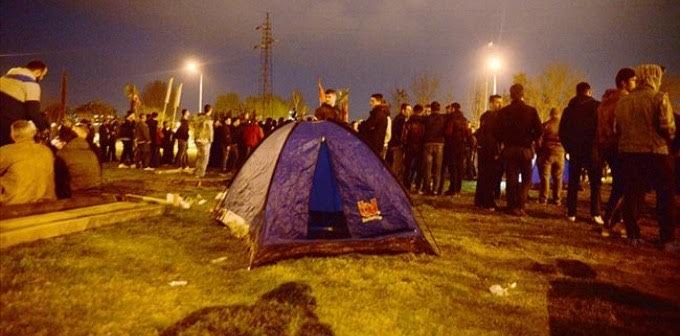 Skopje, 4 March 2016/Independent Balkan News Agency
By Naser Pajaziti
Activists and senior officials of BDI (Democratic Union for Integration) spent last night in the tents set up near the place where a 52 meter high cross was planned to be erected. Officials from this party, which is currently in power, said that they will not remove the tents and will not stop the protests until the commune of Butel in Skopje abrogates the decision to erect the cross, because according to them, this is a provocation for communities of other religions and the citizens.
Vice chairman of BDI, Izet Medziti declared that they will not withdraw until the commune comes up with a decision. Meanwhile, during the night, tens of activists have stayed in the tents.
During the night, a special vehicle was brought to destroy the foundations of the giant cross. Police followed the developments from a distance, while the night was calm.
Asked about this intervention, the ministry of Interior said that it is following the situation and that it will come up with an official statement.
On the other hand, other political parties have not reacted, while their representatives have considered this protest in social networks as a protested orchestrated by the government.
The head of the Association of Journalists in FYROM, Naser Selmani said that Albanians of Skopje showed their maturity and did not fall victim of BDI manipulations in the dirty bargaining with VMRO-DPMNE.
"In the protest there were only BDI officials and militants and no ordinary citizens! The protest remained a protest of BDI's officials and not a protest of Albanians. This government will not be able to stay in power by provoking clashes between Albanians and Macedonians and it will not win the coming elections by orchestrating such conflicts", Naser Selmani said. /ibna/