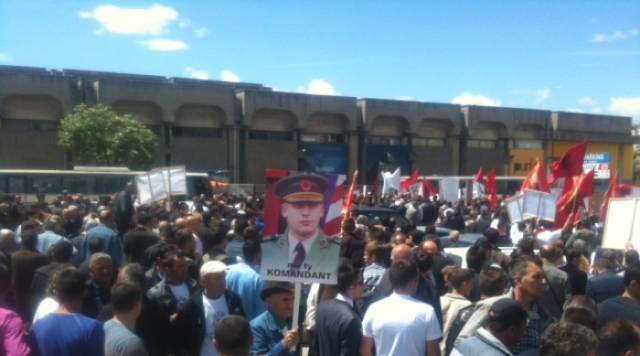 Pristina, May 27, 2013
Kosovo Liberation Army associations and many citizens have gathered on the House of Youth to then be displaced to EULEX building in order to object to the arrest of the former soldiers of KLA.
While the mayor of Skenderaj and former commander of KLA, Sami Lushtaku has appeared today before the Court of Appeal, his fellow brothers in arms and many citizens have organized a protest in order to support Sylejman Selimi and the other 5 fighters of the KLA who are accused of war crimes.
"Don't judge my freedom" was the banner that protesters held in their hands.
The protesters who were organized by KLA veteran associations have objected the actions of EULEX in the case of the arrest of Drenica Group, as it happened in Kleçka case with the arrest of Fatmir Limaj.
Amongst the defendants are former commander of the General Staff of KLA, Sylejman Selimi, former commander of the Operative Zone of Drenice, Sami Lushtaku, former commander of 111 Brigade, Jahir Demaku along with Zeqir Demaku, Sahit Jashari, Avni Zabeli and Hysni Thaci.
The protest was also supported by 6 student organizations. /ibna/