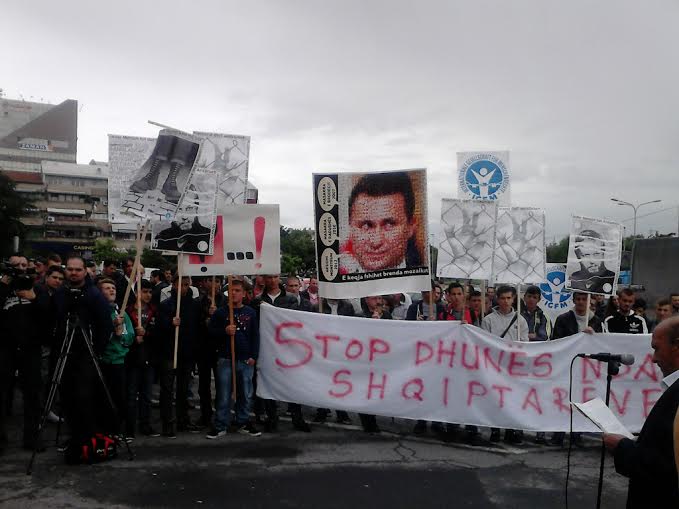 Skopje, May 16, 2014/Independent Balkan News Agency
By Naser Pajaziti
A protest was held today in Skopje against violence toward Albanians, judging by the recent attacks against an Albanian family in the Macedonian inhabited quarter of Radishan in Skopje.
The protest was organized by the International Forum for Human Rights and Liberties (IFHRL), student associations and Organization of War Veterans of the National Liberation Army.
"The cause of this protest is a national, human and expresses solidarity. The case of Zeqiri family marks the culmination of the anti-Albanian systematic policies which has never ended in Macedonia. We're gathered here to send a message to the entire Europe and the world that Albanians can no longer endure injustices which are being made and which are being manifested through terrorist attacks, such as were the attacks in Radishan against the Zeqiri Albanian family by Macedonian hooligans and party activists of VMRO-DPMNE, the Macedonian party in power", declared the head of IFHRL, Idriz Sinani.
Present in this protest was also the mayor of Struga, Ziadin Sela, who stressed that he has arrived to Skopje to show his solidarity with the protest and to say stop to violence against Albanians.
"The government must guarantee to its people the basic human rights. If the state doesn't do this, then the people must react in this way. The new governing coalition must react immediately before a disgrace happens", said Sela, who has recently distanced himself from PDSH (Democratic Albanian Party) due to disagreements with its leader, Menduh Thaci.
Protesters started with a march from "Scanderbeg" square, to continue their march in front of the government building, where a declaration addressed to the government was read to put an end to violence and to take measures for the safety of Albanian citizens. Numerous police forces have been during the whole time present in front of the institutions following the masses of protesters. The protest went quietly and without any incident.
But how was the case of Zeqiri Albanian family? It's an Albanian family that lives in the Radishan quarter in the suburbs of Skopje, mainly inhabited by Macedonians. In the night of April 13 elections, hooligans and activists of VMRO-DPMNE party attacked their two houses. Subject to this attack were also the elderly members of the family and children, while they were also racist and anti-Albanian calls, asking the family to move out of this Macedonian inhabited quarter. But, another incident against this family was also registered on Monday evening, when a bomb was thrown in their house, without causing any victims. As far as the incident is concerned, police were informed, but they could not identify the responsible people. The violence and pressure against this family have led it to be displaced to Germany for security reasons. /ibna/