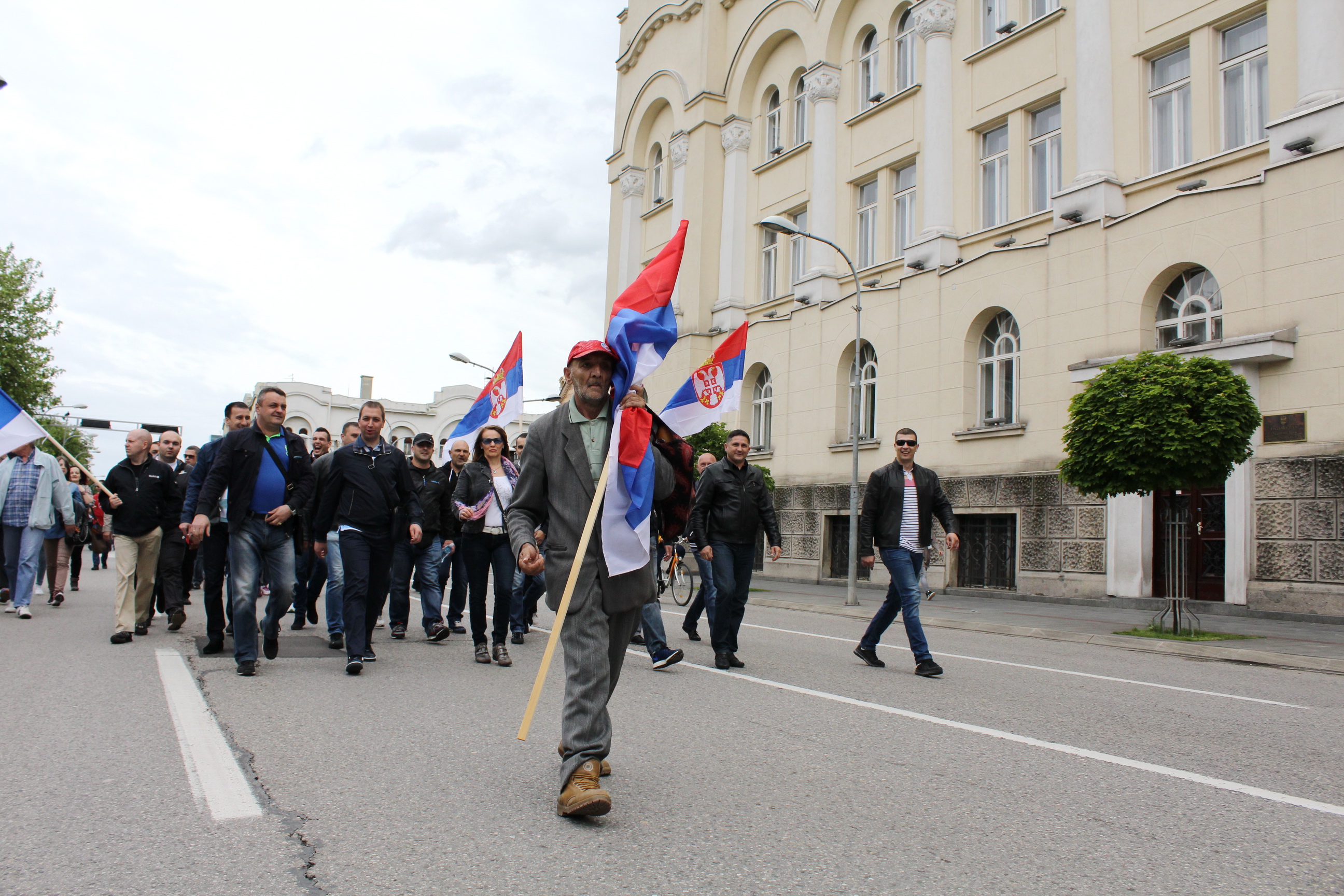 Banja Luka, May 15, 2016/Independent Balkan News Agency
By Mladen Dragojlovic
A protest  of the opposition and the ruling coalition rally, which took place on Saturday in Banja Luka, fortunately passed without incidents but revealed all the absurdsity of the political situation in RS.
On both gatherings, the statements of speakers were full of patriotic words and demands to "those other" to stop the treason and robbery of citizens, but also the vowing that they will preserve the entity, as the "symbol of Serb statehood in BiH", and its citizens. Both gatherings were followed by strong security measures and citizens had to move through back streets or ask police officers to let them pass through the blockade to allow them to move from one street to another. The "rigid" police officers were either telling them to pass through some small openings or they simply did not allow passage at all.
The situation did not pose the same difficulites to RS president and leader of ruling Alliance of independent social democrats, Milorad Dodik, who arrived with his party colleagues and coalition partners to the Krajina Square in his own style, shaking hands with passers-by and donating street accordionists with 100 BAM (50 Euro).
By noon both locations were crowded with a large number of citizens from all parts of the RS. They carried banners and flags of the parties and the RS entity flags. As reinforcement for his meeting, Dodik brought Darko Mladic, son of Hague indictee, General of the Army of Republika Srpska, Ratko Mladic.
"All who have come here today and those who are anxiously following us, can be complacent, because the freedom and peace are preserved and brother will not be against brother, Mladic Junior said, adding that it is necessary to prevent any kind of divisions among Serbs.
In his speech, Dodik said that he knows that Serb people in BiH "live in a vulnarble area" and that they are exposed to radical and terrorist movements.
"We need to say to our neighbours, Muslims: We know that all Muslims are not terrorists, but we need you to help us fight against the invasion of terrorism that threatens all citizens in BiH", Dodik said, adding that RS wants peace and stability.
Dodik claims that the Serbian people throughout history brought freedom to other nations and that the areas where there was no Serbian army there was no freedom for Muslims, Bosnians, Slovenes and other nations.
Claiming that the rally of the opposition gathered far fewer people than at the meeting of the ruling coalition, Dodik called on citizens to leave the rally in peace, and as it became his custom after rallies, he sang two songs.
At the same time, just one kilometer away, in the park Mladen Stojanovic several thousand participants of the opposition parties' protest shouted "Mile, thieves!", "He's gone!", "Enough of corruption". Opposition leaders brought along the daughter of another Hague indictee, Radovan Karadzic, Sonja Karadzic Jovicevic, to address the audience. She gave the opposition supporters a "fatherly advice", to not do today something for which they will be ashamed tommorrow.
"You, our citizens and supporters, must get us to those positions from which we will be able to help those who need it most", Karadzic's daughter said.
Honorary president of the PDP RS Mladen Ivanic said that this was only the first protest, and that he hoped the protest rallies will become frequent and will be more massive.
"We're here because of a Serbian quality called defiance. It started when Dodik called us "traitors". My message is that the RS has a safe future, and in the joint BiH institutions in Sarajevo we will defend it in the best way and we will not allow anything to its detriment", Ivanic said.
Before the protests, opposition leaders visited the RS Interior Minister, Dragan Lukac, who earlier refused to allow the protest walk of opposition parties from park Mladen Stojanovic to Krajina Square. Political parties leaders filed a complaint on this decision but Lukac refused them again. Therefore, the organizers of the protests in the Park decided, as they said, "as good hosts", to escort the participants to the bus one hundred meters away from the park and in a symbolic way show that they had the "short protest walk".
Photos: Mladen Dragojlovic