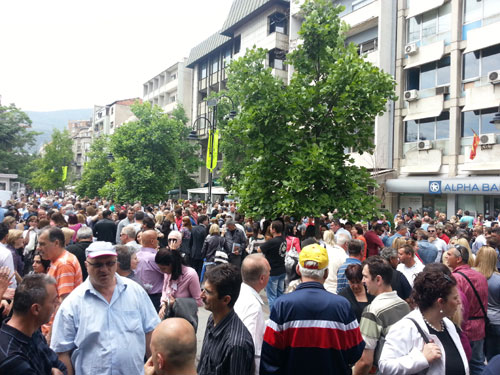 Skopje, June 6, 2013
A significant number of people protested today in favor of the construction of "St. Helena and Constantine" church in the central part of Skopje. The protest was organized following several warnings of the new mayor of Qender commune, Andrej Zhernovski to change the detailed urban plan and the suspension of works for the construction of this church.
Protestors demanded from Zhernovski, who comes from the opposition, to give up on his plans for the destruction of a church which is being built following the incentive of the government of Prime Minister Nikola Gruevski and former mayor of Qender commune, Vladimir Todorovic.
The protest was held by "Veritas" civil incentive, which demands the cancellation of the decision taken by the new administration of Qender commune to build this religious temple which is located next to the Museum House of Mother Teresa.
"Mr. Zhernovski, don't destroy churches. Please enter the religious temple and pray for yourself and all of those that surround you. Don't make your children curse you", declared the activist of "Veritas" association, Sonja Zashovska.
"St. Helen and Constantine" had been planned to be built in the central square, but due to the protests of the Muslim community and the complaints of the international community, Qender commune and the government decided to displace it 200 meters away from "Macedonia" square, where the "Knight on a horse" monument is located. /ibna/