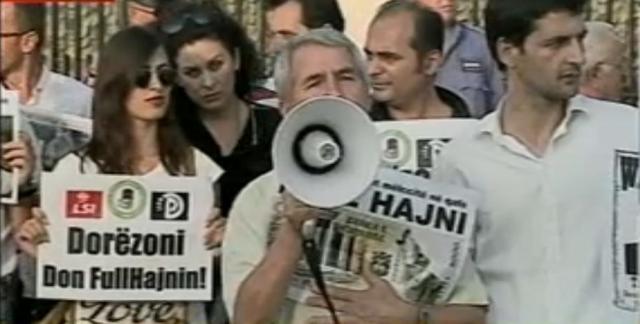 Tirana, August 7, 2014/Independent Balkan News Agency
Many citizens have gathered today in front of the Bank of Albania building demanding the departure of governor, Ardian Fullani.
"Fullani leave" they chanted. Protesters gathered once at 2 pm and then at 6.30 pm in front of the offices of the Bank of Albania.
Citizens protested following the theft of 713 million ALL from this institution. Part of the protest was also Altin Goxhaj, head of the Consumer Protection Office. He demanded investigations to take place about governor Fullani.
"Fullani must be investigated. He has carried out a criminal offense for 9 years in a row. Governor Fullani has turned this banking institution into a club for bankers, who have worked at the detriment of Albanian customers. He's the person who has signed a legislation that damages customers. He stole from the Albanian people and caused a mob like situation by stealing from commercial banks", said Goxhaj among others. /ibna/