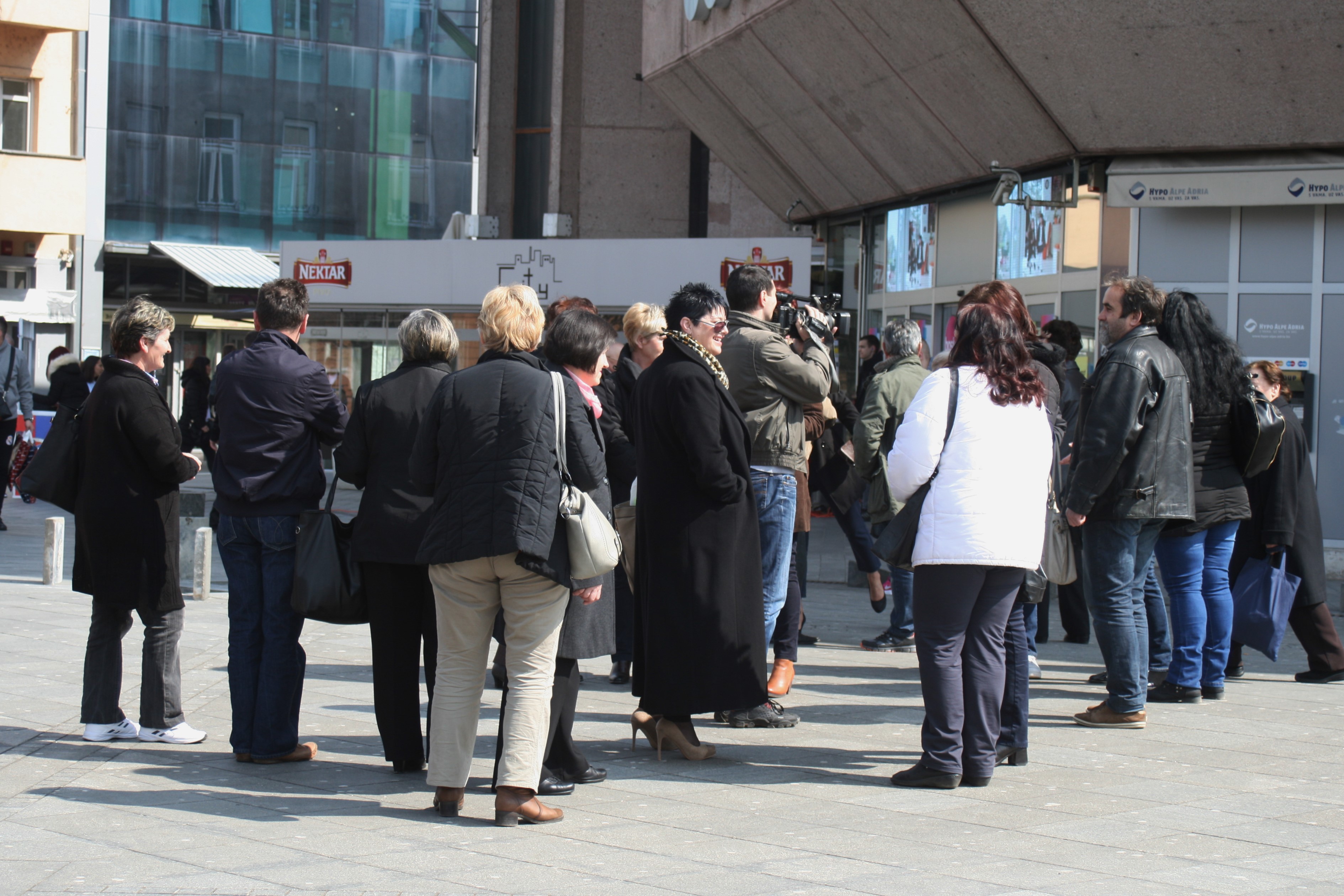 Sarajevo, March 25, 2016/Independent Balkan News Agency
By Mladen Dragojlovic
Former employees of the international military forces in BiH protested on Friday in Banja Luka and Sarajevo, demanding the payment of contributions for their retirement fund, which were not paid all the time of their work.
The protest brought together about twenty former employees who feel that they are cheated because they didn't know that they have the right to the payment. Mira Matic, former employee, told reporters that they all submitted their requests to the Office for indemnification issues at Camp Butmir, but there has been no response.
"We do not know the reason for the delay in processing our claims. We know, and lawyers have confirmed, that we have a right to these contributions", Matic said.
She pointed out that the contracts they signed defined that they will pay these contributions by  themselves but, according to Law, nobody had the right to ask that of them. Matić said that many of them sent their requests in 2010, but to date have not received answers. Some of them, she said, renewed their complaints but since then nothing happens.
"The worst situation is with the British contingent, although we know that something is going on in Italian, Russian and French contingent", she said.
In a conversation with other workers who gathered at the Banja Luka downtown you could hear that the workers had salaries higher than average salary in RS in that time. The average salary was about a thousand marks, depending on the work that was performed. Workers in the kitchen, for example, earned about 800 BAM (400 Euros) while some other workers with higher qualifications earned up to 1 500 BAM (750 Euros).
Former local employees of international military forces have announced that, if a solution is not found soon, they will seek other ways to get their right but that will not give up what belongs to them by law.
Workers from Sarajevo held the same protest in the entrance of the Butmir basecamp near their city. One of the lawyers, Avdo Salihbegovic, told the media that former employees don't have a mechanism to force NATO officials to respect the international contracts and laws.
"Workers don't have another way to oush for their rights except to protest in front of the base. They just want to speed up the resolution of their requests, Salihbegovic told the media.
NATO and EUFOR announced that they are responsible employers and that every request is reviewed in detail and in accordance with procedure. In the announcement these two organizations emphasize that, in order to solve the problem, they established an Office for indemnification issues composed of respected experts.
"At this moment Office is reviewing about 500 requests and former workers will be able to make their case and to submit evidence in order to reach a fair solution, the NATO/EUFOR announcement states.