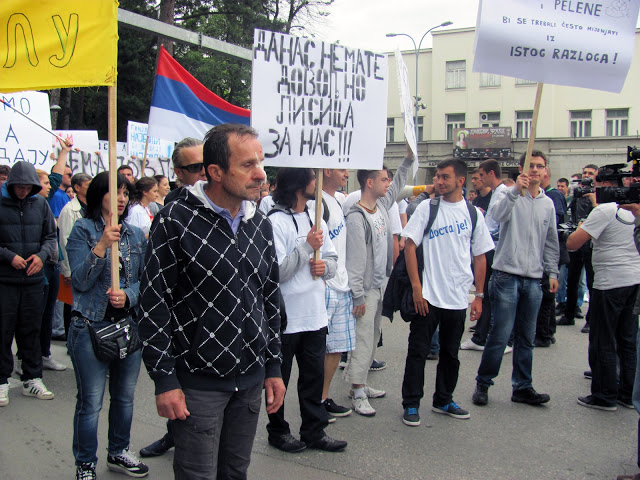 By Nevena Šarenac – Sarajevo
Banja Luka students organized today in Banja Luka a peaceful protest, where they expressed their dissatisfaction with the situation in their society and requested that the government specifically address their demands.
Around 500 students left at around 12:00 from the University Campus in order to join the group of students in front of the first pavilion of the Student Center "Nikola Tesla". They then headed towards the building of the government of the RS. Thus, several thousand protestors of the Banja Luka University arrived in front of the RS government building where they reiterated their demands.
The organizers of the protest urged participants to act appropriately and with dignity, and added that today's gathering does not have a political background.
The requirements of the students are based on the beginning of the construction of the fourth pavilion of the Student Center in Banja Luka and the accommodation capacity in East Sarajevo, the exclusion of the former Executive Secretary of the Alliance of Independent Social Democrats (SNSD) Rajko Vasić from the party due to insults levied against the students, resignation of the Minister Goran Mutabdžija, reducing the price of master studies, audits of private colleges, the fight against crime and corruption and support to family Vulić.
The Center for Public Security Banja Luka confirmed that the march of students in Banja Luka is being ensured by a sufficient number of police officers, and that there are no violations of the law in any form.
"Today you do not have enough handcuffs for us", "We came here because we have unresolved issues'', "Tomorrow Banja Luka, Tomorrow Pale", "We are living in bad conditions", were some of the student placards.
In front of the Student Center students used whistles, trumpets and music also played, while the PA system announce that more citizens are coming.
After they arrived in front of the RS government building, students led a performance of "Kozaračko kolo".
The President of the Union of Students of the RS Nikola Dronjak said that students officially sent their requests to the RS government.
"We are satisfied with the response of students. We have shown that we could go out on the streets and convey our demands'', said Dronjak.
After the protests in front of the government building, students went to the park "Mladen Stojanović", where after a short stop there they left.