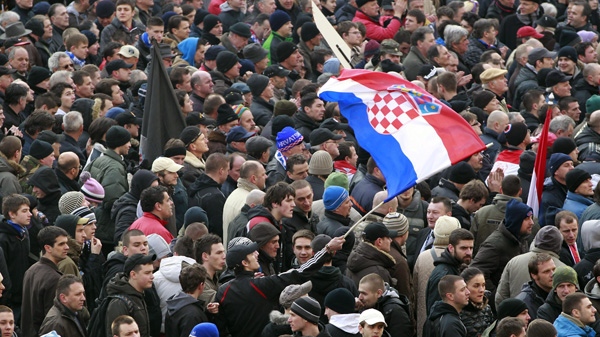 A peaceful protest called "Against Todoric: Against the Favouring of Tycoons" was held in downtown Zagreb on Thursday, with about 70 people expressing their disagreement with a policy which they said "protects tycoons and tramples on the little man" and saying they did not want to live in a poor country with 200 rich families.
"Everyone is worried about (Ivica Todoric's) Agrokor (concern) and nobody about workers and how they will live," Matija Djolo of the Workers Front said, adding that the early 1990s privatisation was to blame for everything and that they were protesting against the tycoon-political elite.
He asked why the public did not know how much Todoric owed the state in taxes, why politicians were agitated about the fall of one tycoon yet no one cared about so many jobless, poor and those leaving the country.
Djolo said it was time people raised their voices against all tycoons, the economic model which generated and supported them, and the fact that "little people" were going bankrupt over minimum debts while billions were written off for big ones.
He said Agrokor and other companies "brutally" breached workers' rights yet the government did nothing about it.
Protester Miljenka Curkovic said the governments over the past 27 years had favoured capital and not workers. "It would be best if Agrokor's companies were given back to workers and if the government drew up a plan to salvage companies and workers."
Among the protesters was MP Ivan Pernar, who supported them./IBNA
Source: eblnews.com