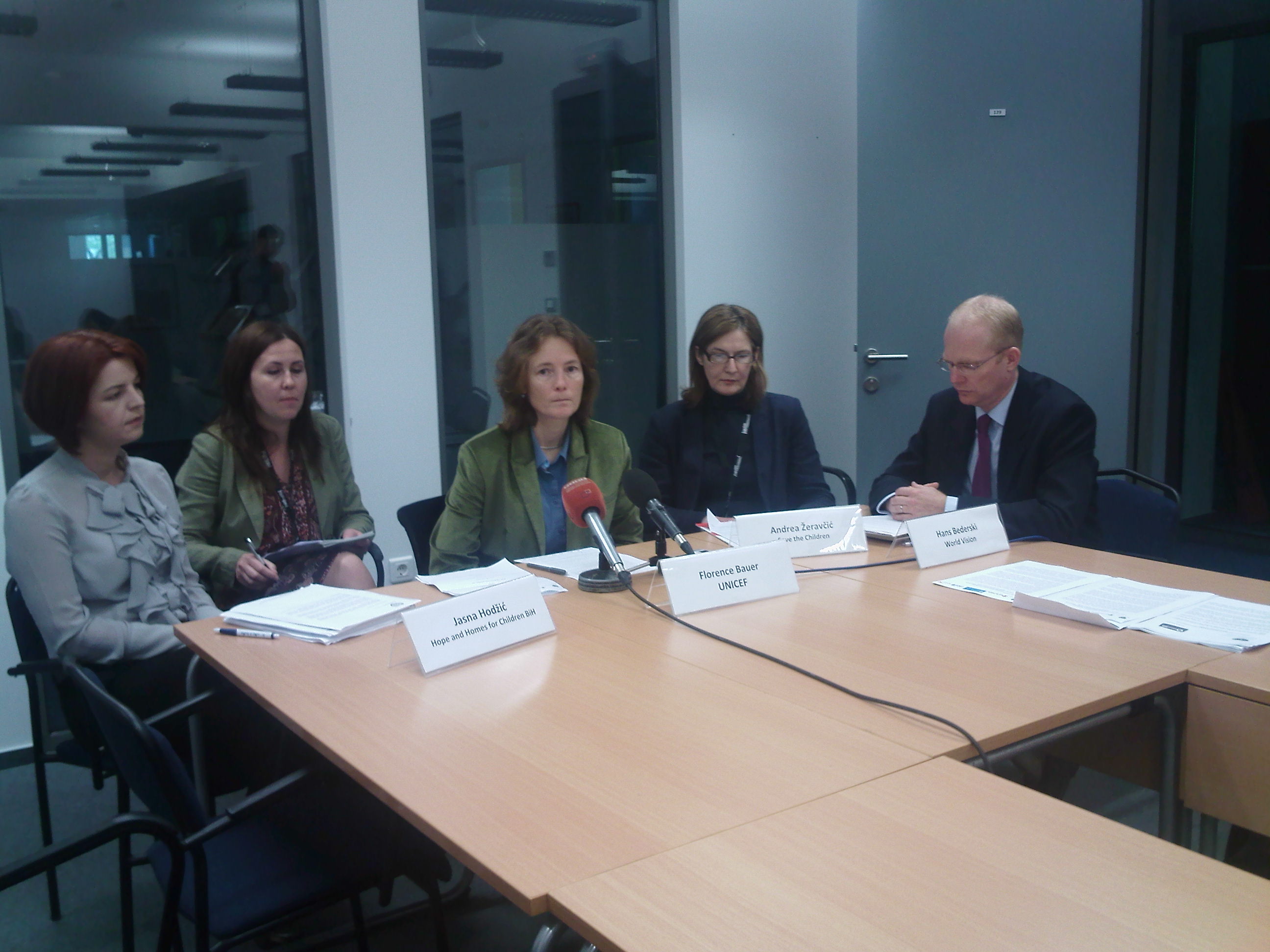 By Nevena Šarenac – Sarajevo
Representatives of the organizations Hopes and Homes for Children, Save the Children, SOS Children's Villages BiH, UNICEF and World Vision signed in Sarajevo today a memorandum of understanding, which represents the continuation of a series of joint activities aimed at the protection and improvement of the rights of children in BiH.
Representative of UNICEF Florence Bauer explained that cooperation of these organizations began in February 2009, when the organization SOS Children's Villages sent an invite for the formation of a working group whose focus would be children without parental care.
She recalled that after the first working visit, the focus of the working group expanded to the category of vulnerable children in general, with special emphasis on children with disabilities and children that come from marginalized minority groups.
She set aside several previous activities that, among other things, related to the submission of requests for the training of foster parents in the Ministry of Social Work of Canton Sarajevo, the joint submission of recommendations on children's rights for the Council of Human Rights in Geneva, giving comments and proposals on the draft law for the protection of families with children, and the organization of the conference "Children in BiH" in cooperation with the Ministry for Human Rights and Refugees of BIH and lower entity ministries.
Representative of Hopes and Homes for Children Jasna Hodžić believes that only with joint action of these organizations can it influence on changing the lives of many children in BiH, who are currently without parental care or who are at risk of ending up without parental care.
According to Andrea Žeravčić, representative of Save the Children, it is evident that only the building of partner relations and joint action could contribute more to the protection and improvement of the rights of children.
"We believe that partnership, which will become official today, would contribute to a more efficient and successful work in the field of the protection of the rights of children'', said Žeravčić.
In the current political and social situation in BiH, where the apparent stagnation of all reform processes, continuing political crisis, as well as growing poverty that mostly affects the youngest and most vulnerable population groups, with the signing of this memorandum of understanding the signatory organizations undertake to establish close cooperation and a joint investment effort to solve the most pressing issues that affect children in BiH.
In this way, as a group, we put at the disposal to BiH authorities and the public in general for information on the status of children in BiH and to provide active support for their improvement.