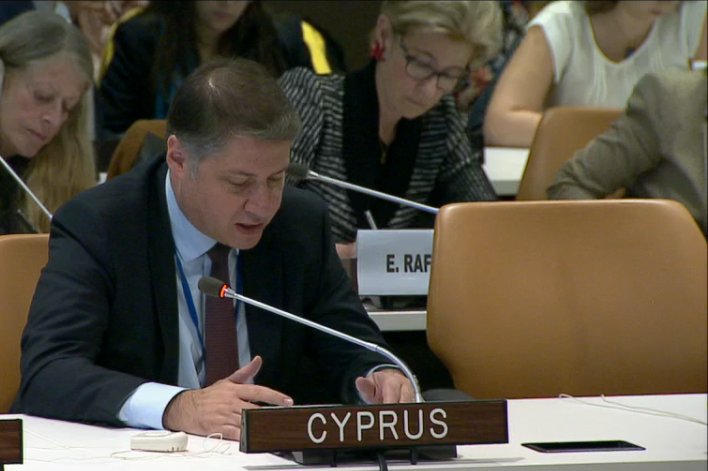 During the High Level meeting for "Protecting endangered cultural heritage: 'United4Heritage' and the Italian experience", the Permanent Representative of Cyprus in the United Nations, Ambassador Kornelios Korneliou, invited all UN member states to "Unite4heritage" and support Cyprus initiative to create a Group of Friends on the Protection of Cultural Heritage. The high-level meeting, which took place at the UN, was organized by the Permanent Mission of Italy, in collaboration with UNESCO, and was chaired by the Permanent Representative of Italy, Μr Sebastiano Cardi and the Minister of Culture of Italy, Dr Dario Franceschini.
In the opening remarks, Dr Franceschini mentioned Italy's efforts to protect cultural heritage and underlined the importance of the role of UNESCO. The minister also spoke about the landmark agreement, which the government of Italy signed with UNESCO to establish a Task Force for the protection of ancient cultural artefacts from the hands of extremists in crisis areas. Dr Franceschini talked about the creation of the Italian team "United4Heritage Team", which is consisted of 30 units of specialized Carabinieri TPC Command and 40 experts from the Ministry of Culture.
The Permanent Representative of Cyprus Kornelios Korneliou congratulated Italy and UNESCO for the informative meeting and cited that "the establishment of a national Task Force in the framework of the UNESCO 'United4Heritage Task Force is an example to be followed."
In his remarks, Ambassador Korneliou emphasized that "the protection of cultural heritage is one of the main priorities of Cyprus's foreign policy" and talked about the new convention related to Cultural Property which was adopted during Cyprus' Chairmanship of the Committee of Ministers of the Council of Europe and opened for signature at the Council of Europe Ministerial Meeting last May, in Lefkosia. The Permanent Representative encouraged the wider UN membership to join the New Convention, as it has been designed to be a globally oriented instrument and is open to accession by non-member states of the Council of Europe.
Moreover, Mr Korneliou informed the member states that Cyprus is currently working on the creation of an informal Group of Friends in the context of the UN that is focused on the Protection of Cultural Heritage. "We believe that this initiative will serve as a platform for closer cooperation in the United Nations and will strengthen the efforts for the protection of cultural heritage globally", he said. Leading, Ambassador Korneliou invited all Member States – especially Italy that has a leading role in this field – to join and support Cyprus initiative.
The high-level meeting was well attended by several Permanent Representatives and UN agencies, such as the Chamber of Deputies, Mrs Laura Boldrini, United Nations Under-Secretary-General for Peacekeeping Operations, Jean-PierreLacroix, the Director of Office and UNESCO Representative to the United Nations in New York Marie Paule Roudil, the the Police Director for the Maintenance ofCultural Heritage (TRC) of Italy, Brigadier Fabrizio Parrulli, and Permanent Representatives of Greece, Nepal, Netherlands, Poland and others. Among the speakers that participated in the discussion was also Ambassador Joanne Adamson, Deputy Head of the EU Delegation to the United Nations, who read a statement by the High Representative of the European Union for Foreign Affairs and Security Policy, Federina Mogherini. During the high level meeting, there was a projection of a small film on the protection of cultural heritages that was prepared by the Unite4Heritage Task Force./IBNA
Photo: pio.gov.cy