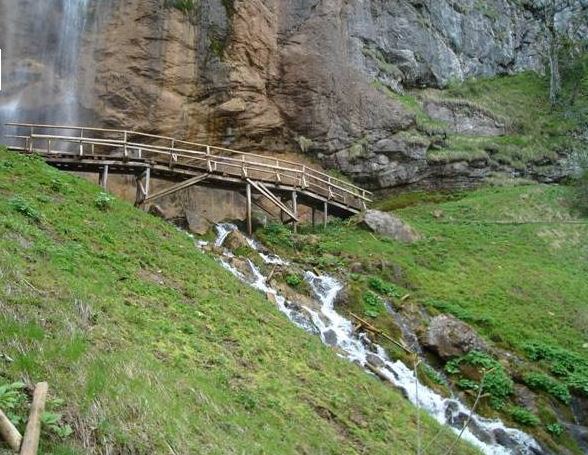 By Maja Tuljković – Sarajevo
The public institution for the protection of natural areas of Canton Sarajevo was registered in February 2010 with the goal to protect and preserve the intrinsic value of nature and its diversity. This public institution includes protected areas: the monuments to nature 'Vrelo Bosne',  'Skakavac', and the protected area 'Bijambare'.
'Skakavac' is one of the biggest waterfalls in the Balkans and is an ideal place for hiking, mountain biking and various other forms of extreme sports. 'Bijambare' is an ideal place for adventurists and nature enthusiasts, and for relaxation and vacation for families. 'Vrelo Bosne' offers carriage rides and visits to lakes where swans are located, which is the most recognizable symbol of 'Vrelo Bosne'.
Wanting to know what tourists think of these attractive tourist places, during September employees of the public institution surveyed visitors to these protected areas. The survey aimed to interview 40 visitors for each area and to process the information of their qualifications, age, reason for visit and frequency of visits. Their comments and suggestions were analyzed on the basis of which the institution could improve its offers and facilities.
It is interesting to note that the protected areas were visited by a large number of foreign citizens. The biggest increase in visits by foreigners, in addition to the known already known interest in 'Bijambare' and 'Vrelo Bosne', was marked in Skakavac, whether the visitors came from different countries or they are residing in Sarajevo as employees of embassies and various other missions, said Technical Manager of the institution Elma Karović.
Visiting hours are constant throughout the week. Working days are preferable because there are fewer people, said Karović and added that foreign citizens come from all over the world, such as Barcelona, Warsaw, Chicago, Vancouver, Abu Dhabi, Rotterdam, Oslo and Malmo. What is common for all three areas is that the age group is very diverse and one age group is not predominant. Most of the visitors carry a high university degree, of which a considerable amount of them are here for the first time.
Karović said that visitors to 'Vrelo Bosne' asked for more walking trails, which could be made possible in April or May of next year, while they are almost entirely satisfied with the excursion to 'Bijambare', and there is really only interest for more restaurants.
Great interest was expressed for 'Skakavac' as well, said Karović, because it is less accessible than the other two areas. The survey showed that most of the people who come to this place are people with higher education and foreigners who wish to discover and explore this area. Among them are Ambassadors who deal with European integration. Their wish is for there to be a facility where they could drink tea or have something to eat.