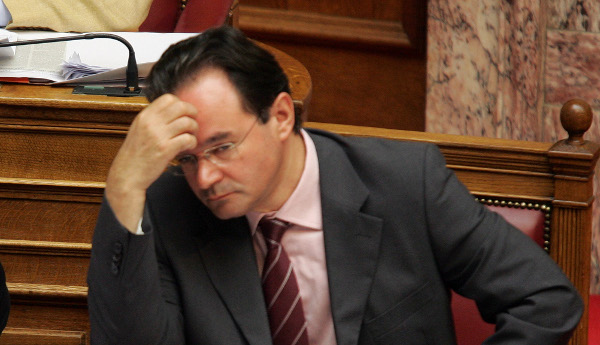 By Spiros Sideris – Athens
The reference of former Finance Minister Giorgos Papaconstantinou to the Special Court recommends with his motion to the competent judicial council of the Supreme Court the Deputy Public Prosecutor of the Supreme Court, Pliotas Claus, after the completion of the  interrogation of the special investigator of The Supreme Court, Eosiph Kalaganidis.
Pliotas calls for the referral of Giorgos Papaconstantinou for two felonies; that of infidelity in service and the falsification of document, and for the offense of breach of duty and calls for the additional referral of his relatives Eleni Papaconstantinou, Simeon Sikaridis and Andreas Rossonis as co-participants.
The last word as to who, if any, will eventually come before the Special Court has the special Board of the Supreme Court.
Reportedly, in his proposal the chief public prosecutor says that the names of the relatives were deleted with the initiative of the former minister, while his relatives allegedly took advantage of their relationship with Giorgos Papaconstantinou.
It should be noted that the former minister has already apologized and has been released with bail of 30,000 euros and the obligation to show up at the Police Department in his area once a month.
The Lagarde list has "given birth" to more defendants, since in September the former head of Financial Crime, Ioannis Diotis and Ioannis Kapeleris will have to testify. They are prosecuted for disloyalty to the service, while the former is additionally accused with the leakage of public document. Diotis allegedly copied the original memory stick with the Lagarde list, without however proceeding with its falsification as he states.