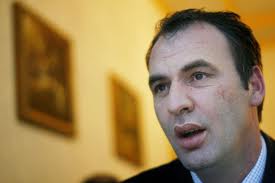 Pristina, September 24, 2013
EULEX prosecutor, Maurizio Salustro doesn't agree with the acquitting of Fatmir Limaj and his 9 fellow former fighters. Salustro has announced that he will appeal this ruling.
Meanwhile, sources at the Democratic Party of Kosovo say that nothing official has been received by Fatmir Limaj for resignation from this political subject. Limaj publicly appealed yesterday for PDK not to be voted.
General secretary of Democratic Party of Kosovo, Basri Musmurati says that Fatmir Limaj has not handed over his official resignation from PDK.
"I believe that he has only made declarations against PDK branch in Malisheva and not against the party. As far as the rest is concerned, I have no information", said Xhavit Haliti, one of the vice chairmen of PDK.
Meanwhile, Berat Buzhala, MP of PDK has demanded the resignation of Limaj from the party.
"A party which tolerates debate inside it is good, but the fact that Limaj and Krasniqi have publicly appealed for PDK not to be voted, they must leave the party", said Buzhala.
On September 17, the court has acquitted Fatmir Limaj and the other defendants in this trial.
Limaj and the others were facing "Klecka" trial on counts of war crimes. /ibna/