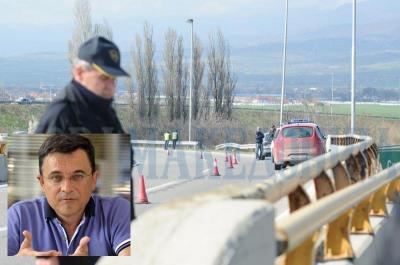 Skopje, July 10, 2013
Journalist and owner of the daily and weekly "Fokus", Nikola Mladenov has died as a result of a car accident.
This has been the final official version of the Prosecution of Skopje which has come up today with the results resulting to the death of Mladenov taken place on March 27 this year, when he was found dead in his vehicle, which had slid off the road linking Vesel to Skopje, several kilometers outside the capital.
"After all enquiries have been made, the accident has not been a result of a criminal act", said the prosecutor of Skopje, Gordana Geshkovska.
Enquiries have not shed light upon the exact time of the accident, while prosecution believes that the accident has taken place during the midnight of March 26 and 27. Police has been informed about the accident by an individual.
According to the enquiries, Mladenov was driving his "Mercedes Benz" type vehicle at a speed of 142 km per hour at the moment when the accident took place. According to the prosecutor, the causes of the accident relate to the non-adequate action of the driver and the high speed at the moment when he entered the Skopje junction.
But, the lack of several facts and elements has sparked debates and suspicions. Authorities have not found the mobile phone of the journalist at the location of the accident, as a crucial element of the enquiries.
Journalist and publisher of "Fokus" newspaper and magazine has been one of the strongest critics of the current power in FYROM, while in the past, this media has been a strong opposition of past governments. /ibna/