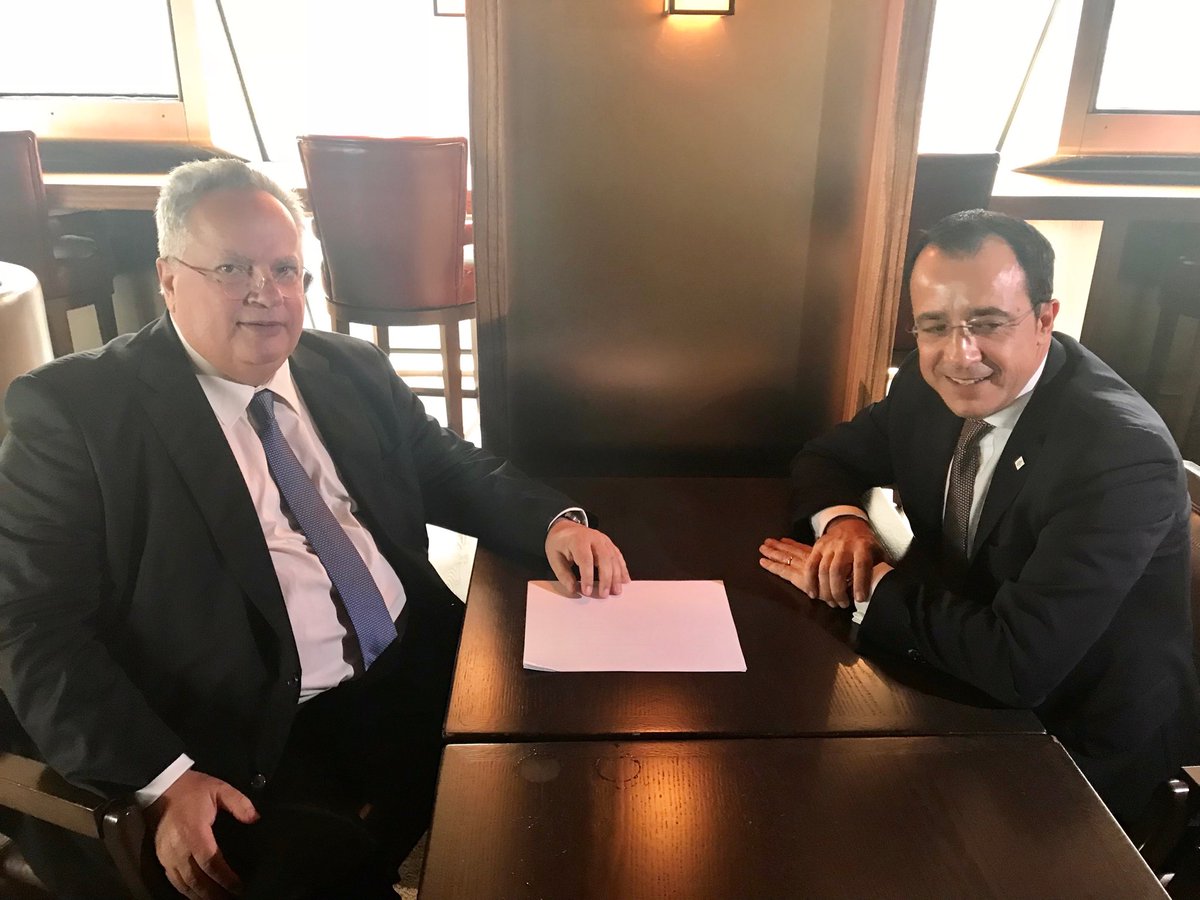 At the tripartite meeting of the three Foreign Ministers, Greece's Nikos Kotzias, Turkey's Mevlüt Çavuşoğlu and Great Britain's Jeremy Hunt that took place on the sidelines of the 73rd UN General Assembly in New York, the sides that came together submitted their proposals.
The tripartite exploratory meeting of the three guarantor countries' Foreign Ministers on the Cyprus issue was in the context of finding a positive approach to resuming talks regarding the existing problem.
As highlighted by the Greek Foreign Ministry in its previous statements, the approach to the issues of guarantees and security in Cyprus by the two communities, by the guarantor countries, can act as a lever to re-initiate bi-communal talks after the last round of consultations at Crans Montana.
According to IBNA, following the processing of the submitted proposals, there will be another meeting among them, at which they will provide information on the outcome of their contacts. In the case of a positive approach and of an "informal" agreement, give the green light for the continuation of talks between the two communities.
Kotzias and Christodoulides met with A. Wess Mitchell  
Nikos Kotzias and Nikos Christodoulides each had a separate meeting with the Assistant Secretary of State for European and Eurasian Affairs, A. Wess Mitchell.
According to Greek diplomatic sources, the discussion revolved around the promotion of co-operation in the Eastern Mediterranean on one hand, with emphasis put on economy and energy, and on the other, on the preparation of the official visit of Nikos Kotzias to Washington on December 13, 2018. The Greek FM will have  a meeting with his American counterpart Mike Pompeo.
During their contact, Nikos Christodoulides and Wess Mitchell talked about bilateral issues, relations and geostrategies in the Southeastern Mediterranean region, security matters as well as energy issues. The Cypriot FM will visit Washington on November 8-10, 2018.
On the sidelines of the Transatlantic dinner thrown by U.S. Secretary of State Mike Pompeo who hosted the EU Foreign Ministers, Nikos Kotzias briefed Nikos Christodoulides both on the trilateral meeting of the guarantor countries on the Cyprus issue and on the bilateral meeting between Greek premier Alexis Tsipras with the Turkish head of state, Recep Tayyip Erdoğan…. / IBNA