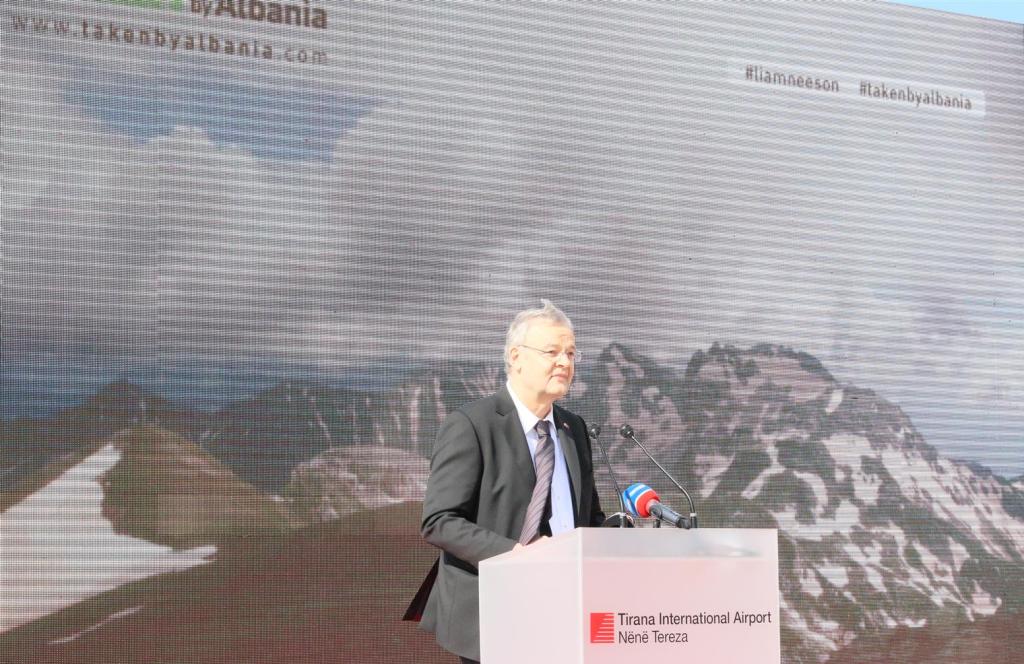 The initiative 'Taken by Albania' launched today at Tirana's international airport. Cre-
ated and produced with support from the Swiss Entrepreneurship Programme it will run throughout 2019 in traditional and social media
A launching event near the runway of Tirana Internationa Airport aimed at sending out the message 'Taken by Albania' by announcing the official start the campaign with the same name.
"Let us be taken by Albania. I am taken by its friendly people, its beautiful landscapes, its impressive history. This country is safe, welcoming, and interesting. Therefore, all the actors can work more to influence its reputation – just like you are doing today with the 'Taken by Albania' campaign", said the Swiss Ambassador in Albania, Adrian Maître.
"In order to achieve our target for 10 million tourists annualy, we need tourism for the 12 months of the year by combining culture, nature and human heritage", said Minister of Tourism and Environment, Blendi Klosi.
The EU Head of Delegation, Luigi Soreca said: "I have been "Taken by Albania" for some time now. By its natural beauties, rich cultural heritage, delicious food and warm-hearted people! Often good news doesn't make the news. You might want to know the real Albania, beyond prejudices".
"I know that if there is any sure way for Albania to develop, this is sustainable tourism", said Blerina Ago, the campaign founder. "I have seen the joy and hope that tourism brings in the most isolated areas of Albania and the transformation power of this industry in changing the lives of inhabitants, opening new jobs, and more well-paying jobs for young people and in particular for women and girls", – added Ms. Ago.
The campaign 'Taken by Albania' addresses the stereotypes prevalent in some Western movies and media and tries to show that the reality is in fact the opposite.
It takes its premise from the movie 'Taken' starring Liam Neeson and invites him and others to come and see for themselves the beauty, hospitality and uniqueness of Albania.
'Taken by Albania' will run throughout 2019 and will gather individual videos captured by both visitors and locals in various spots in the country under the hashtag #takenbyalbania. /ibna/
<iframe width="560″ height="315″ src="https://www.youtube.com/embed/hoH2EiQc3ms" frameborder="0″ allow="accelerometer; autoplay; encrypted-media; gyroscope; picture-in-picture" allowfullscreen></iframe>