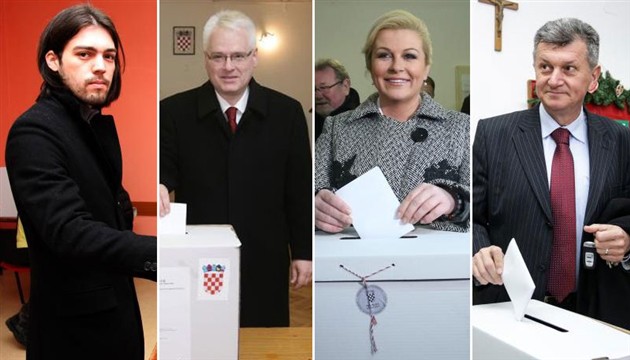 Zagreb, December 28, 2014/ Independent Balkan News Agency
By Marija Avramovic
By noon today Central European Time, 13,19% of Croatian voters had proceeded at the voting stations to elect a new President. Due to the snow storms that hit Croatia during the night, some polling stations delayed their opening, the Central Election Commission (CEC) announced.
There were no reports of possible electoral irregularities, not even police alerts were issued in regard with the elections, the chairman of CEC Branko Hrvatin said.
Croatian Prime Minister Zoran Milanovic expects more people to vote at this election because, as he points out, it is the first election in three years, a fact that should motivate at least fifty percent of the voters.
"I hope the snow will not affect the procedure, since (presidential) elections are once in five years and are important," Prime Minister told reporters.
President of Croatian Parliament Josip Leko voting this morning at the presidential elections in Novi Zagreb, said that from the future president it is expected to understand the past and to have a vision for the future of Croatia.
"I expect him/her to understand the past and to have a vision for the future of Croatia; it is of course difficult to achieve not possible", Leko noted.
Ivo Josipovic, who is fighting for a new presidential term at today's elections, voted at a polling station in Zagreb, and when asked whether he expected victory in the first round said he would would like that, but that "it depends on the will of the citizens".
"I hope that the election will take place in a democratic atmosphere, that it'll be free and fair, and that the snow will not prevent people from going and casting their vote", the candidate of Croatian Democratic Union Kolinda Grabar Kitarovic said.
The presidential candidate of "Living Wall" Ivan Sincic voted on Sunday morning at a polling station in Karlovac, telling reporters that he hopes there will be a good turnout at the presidential elections and that he expects a whole new type of people to restore confidence in politics.
He noted that regardless of today's result "Living Wall" would continue with their program and plan and stressed that they intended to take part at the parliamentary elections.
Presidential candidate of the Alliance for Croatia, Milan Kujundzic voted at the Markuševac polling station and told reporters that he believed the Croats realised that they must decide, and that no one else would change Croatia for the better, in their stead.
First, preliminiary results of the sixth presidential elections CEC will be publish at 20:00 (CET), one hour after the polls close.